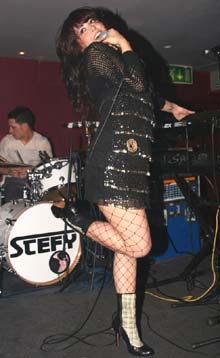 If you stayed in and watched Dragons Den last night, here is what you missed at Popjustice Live.
Trademark! Made the most of their 18 minute slot with an enormous intro­duc­tion, brought their own light­boxes and had a glowing blue mic lead. Lovely.
Stefy! As you can see, at least one memeber of the band enjoyed herself. They were amazing live. A lot more 'rock' than we thought. We are going to interview Stefy Rae later today and will hopefully not stink of booze by then.
Dragonette! Predictably brilliant. The people at the back didn't see Martina wearing what she declared were 'rubber panties'. From the front it seemed that she was wearing nothing of the sort… AND THEY COVERED 'GETTIN' ENOUGH' BY LIL' CHRIS!!!1!
Siobhan Donaghy! She DJed and it was very good but to be honest we were a bit drunk by this point. She is a lot prettier than you think.
Inappropriate intro music! We apologise for inad­vert­ently making Orange County pop combo Stefy take to the stage to the strains of 'North American Scum'. :(
Lorraine! Well, Ole from the recently re-signed band put in an appear­ance. He was wearing a scarf.
Booze! The reason we started banging on to Siobhan about how good the Mutya single is. :( x a million
A Strict Bar Policy! No pints after 9pm! Very socially responsible.
Thank you to all the bands and the bands' people and the bands' peoples' people. It was very good, we would like to do another one soon and we would like the following people to come and perform.
Mutya
Madonna
Girls Aloud
Pleasure
The Sounds
Jamelia
Robyn
Sophie Ellis-Bextor
Lil'Chris
Patrick Wolf
The Veronicas
Darren Hayes
UnkleJam
Kylie Bloody Minogue
Not U2
Siobhan Donaghy
Sugababes
Shiny Toy Guns
And some others…
It will probably end up being an acoustic set from the Reggae Reggae Sauce man.
Speaking of which, if you did stay in and watch Dragons Den, could you please email us with a brief synopsis of what happened in last night's show? Thank you.
(Thanks to Mark Cavill at www.macphotography.co.uk for the nice picture of Stefy, because we forgot to take any.)