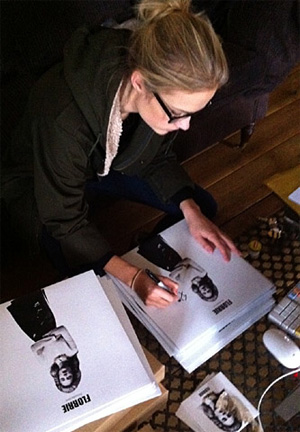 So the story so far on Florrie is this: not-ugly, nice-voiced Xenomania house drummer-slash-musician turns into proper popstar, launches 'organ­ic­ally' (ie without massive fanfare but with the intention of fanfares at later date) via various online download releases, Fred Falke remixes etc etc etc.

So Florrie's 'Introduction' EP — her first proper release — is out now and it's extremely good. Some tracks went online to download free last week but the paid-for download and physical format are available to purchase from today.

The formats are therefore:

1. Download off her website
Cost: Zero pence.
Point: Continuing to establish Florrie as a forward-thinking Popstar 3.0 sort of artist with strong social media BLAH BLAH BLAH.

2. Download off iTunes
Cost: Three pounds and sixteen pence.
Point: This is being presented to fans as a way of 'sup­port­ing' Florrie. It's the same as the tracks you can get off her website but if you like it you can basically donate a bit of cash to Florrie. Considering the cut iTunes take a better way of giving her some cash might be to ask politely for her email address and just Paypal her the money directly.

3. 12" (first 100 signed)
Cost: Nine hundred and seventy nine pence when you include postage.
Point: Looks nice stuck on or leant against a wall.

Our favourite song on the EP is 'Left Too Late'. Clearly the whole point of all this is that Florrie is an exciting new artist estab­lish­ing her own niche etc etc etc but if we are com­pletely honest the reason we like 'Left Too Late' is that it sounds quite a lot like a Girls Aloud song. IS THAT SUCH A CRIME???

[youtube]p3ac8PruySQ[/youtube] No it is not.