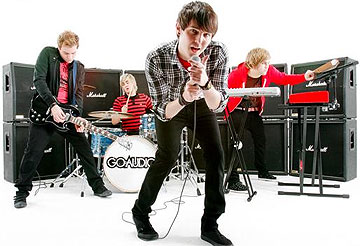 This lot are Go:Audio, who you may remember we 'tipped for the top' (ie said were quite good) 16 months ago in our popstars-for-2007 feature, and before that wrote about at the start of 2006 when they had a different name.
It's been inter­est­ing to watch the band develop over the last couple of years, with inter­mit­tent phonecalls from Josh from the band babbling on about record deals, support slots, lineup additions, remixes and so on, and the band popping over to Popjustice HQ for occa­sional progress reports.
We've featured their first 'proper' single, 'Made Up Stories', as today's Song Of The Day and as you can hear it's a fizzy elec­tro­po­prock effort with a big chorus and a nice synthy bit in it. You'll probably be wanting to think along the lines of The Killers-meets-McFly if you're fond of putting bands in little boxes although Kerrang have already decided they like Go:Audio so we presume the label have been sending out quite a different 'message'.
Listen to some more bits at the band's MySpace or watch a behind the scenes doc­u­ment­ary — the sort of thing people call 'content' these days — by clicking here.