Two separate acts have made shameless bids for coverage on Popjustice in the last 24 hours, and have done so in two different but — as this post proves, suc­cess­ful — ways.

Firstly, there's this shoutout from Jedward.

[youtube]X4Y4NUaKdRE[/youtube]

When we saw that they'd recorded a similar shoutout for Barack Obama we felt like we were in great company. When we also noticed that Bono had also received a video, we started to feel slightly upset. And when we saw their video for US gossip blogger Perez Hilton we closed the office and went home for the day. Nonetheless, well done Jedward.

Also yesterday, a young lady appeared in the Popjustice office bran­dish­ing cake.

This is that cake.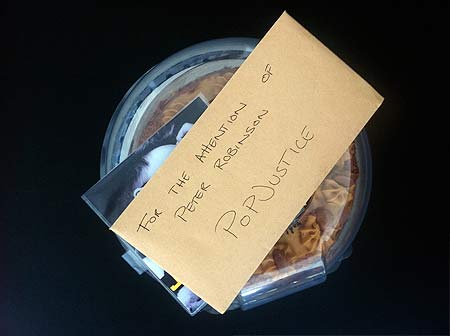 Here it is without an envelope on it.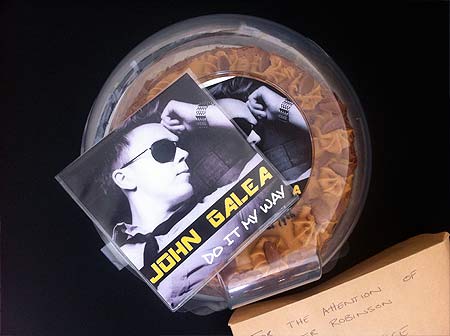 It's a cake with some release details on it.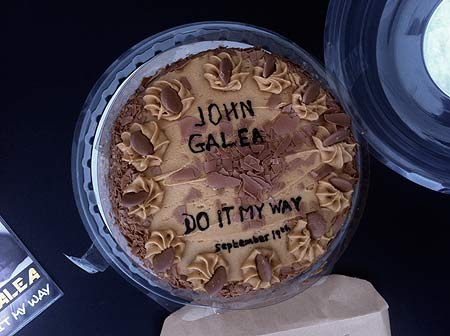 It's not every day you receive a release date cake.

We dimly recall glimpsing a few press releases about this John Galea single before they were pushed down our inbox by the hundreds of other press releases that pile in morning noon and bloody night but the presence of cake has made the whole thing feel a bit more urgent. So let's see what John Galea's song is like, shall we?

[youtube]zrxrEyf6rvs[/youtube]

Well the cake was certainly very nice.