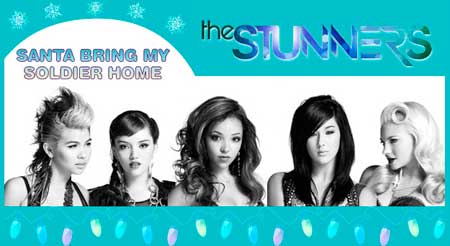 If you're looking for this year's most crass and self-serving Christmas charity single you may have found your winner: 'Santa Bring My Soldier Home' by US girlgroup The Stunners. The band may be familiar to a couple of you already — they're like Pussycat Dolls without the subtlety or the complex feminist agenda and they've got a bril­liantly-titled song called 'Dancing Around The Truth' which sadly has all the ori­gin­al­ity and natural energy of a mid-ranking track on the current Saturdays album.
'Santa Bring My Soldier Home' — which, it's fair to say, slightly over­es­tim­ates Santa's true level of influence on the world politics stage — is a bit like last year's X Factor Finalists cover of 'Hero' in aid of Help For Heroes except this release is unlikely to raise much in excess of twelve pence for the nominated charity and it's therefore that very worst type of charity single: one which preys on what it perceives to be 'an easy target' (in this case the sup­posedly emo­tion­ally vul­ner­able families and friends of those serving overseas) and con­veni­ently boosts the profile of the act singing the song, but doesn't even make any bloody money.
We know what you're thinking. "Surely what this inane pop release really demands is an emo­tion­ally manip­u­lat­ive TV per­form­ance." Let's 'fire up the press release' and see what's in store.
The Stunners will be per­form­ing "Santa Bring My Soldier Home" on The Wendy Williams Show on December 14, 2009. Viewers are invited to submit photos of loved ones in the Armed Forces to be shown during what is sure to be a touching per­form­ance. More details are available here: http://www.wendyshow.com/2009/12/04/santa-bring-my-soldier-home/
Nice.
Needless to say the song is shit, but wait until you see the video they've put up on YouTube to accompany the track, then HOLD YOUR HEAD IN HORROR as the band's appeal for responses scrolls before your eyes.
httpv://www.youtube.com/watch?v=1OMy_lzV7mY

If for whatever reason you wish to download this aston­ish­ing piece of music you can do so at Santabringmysoldierhome.com.