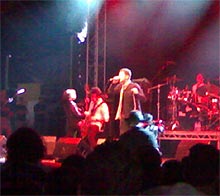 I. Matt Willis played to a 'modest' crowd in the JJB Arena. He intro­duced 'Hey Kid' by telling the crowd "this is out on Monday — buy it or my record label will drop me". (You will see from the picture to your right that, as usual, we have our pro­fes­sional pho­to­grapher in tow for the weekend.) This all seems a bit downbeat con­sid­er­ing his set was BRILLIANT and he is a PROPER POPSTAR.
II. The only band worth bothering with on the second stage were Editors.
III. As you might expect Girls Aloud com­pletely rocked it later on in the JJB Arena — high­lights being 'I Predict A Riot', the comedy Amerie breakdown in 'Love Machine' and Cheryl rapping in 'Watch Me Go'. Sarah pulled lots of 'rock' faces. Nicola did not.
IV. Mew were good.
V. Radiohead 'went on a bit'.
NB: Sunday was boring and we missed all the good bits.

(Note to judges on any forth­com­ing awards panels: please feel free to consider the above review as an example of extreme journ­al­istic excel­lence. Thank you.)