365, that boyband we have been giving you inter­mit­tent updates on for the last eight months or so, did a showcase thing on Tuesday. Unfortunately we were in a meeting and could not attend. Apparently the band muddled through anyway.
Here is a new picture of them.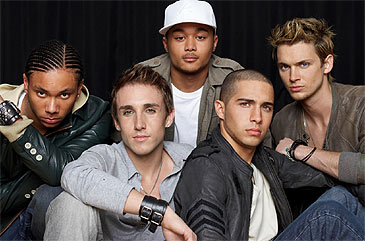 Fucking hell, they look like a right old laugh, don't they?
The group's first single is called 'One Touch' and it is out in the middle of October. It is good. At a push we might even go so far as to say it is very good. You get the idea. The song is basically about sex. Or is it? Consider this line from the song.
"There's something about you I want to get into — it ain't your mind."
Bedroom? Garden shed? Bumhole? We may never know. That's the problem with popstars these days — they beat around the bush too much. Can't they just say what they mean? Color Me Badd had it right. "I wanna sex you up," they sang. You knew where you were with Color Me Badd. And we don't want to hear any excuses about "oh well they won't play it on the radio if the lyrics are all about tarmacking".
Two points:
1. The radio played Color Me Badd, and that was in 1991, when the age of consent was still 32.

2. Radio won't play bloody boyband songs anyway and everyone — including radio pluggers who pretend they're going to Radio One, go straight to the pub then reappear two hours later with a shriek of "they're not keen, they'll probably go with the second single!!!" — knows it. Here is an idea: if you want to get your band on the radio, sign Razorlight.
So anyway — 365. Quite a good band with quite a good first single.