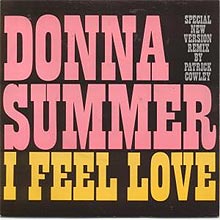 29 years ago today, Donna Summer's 'I Feel Love' went to Number One in the UK.
If you think that in the entire history of recorded sound there are any more than eight songs better than 'I Feel Love' you are, frankly, a fool to yourself.
Let's hit YouTube for some 'I Feel Love' action.
Literally amazing.