Remember Five were staging a comeback? Remember we went to the press con­fer­ence which was held in a shopping centre and saw the band making their 'grand entrance' by appearing up an escalator?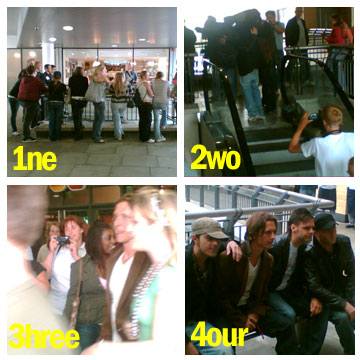 Well, sad news. From their man­age­ment company:
"It is with deep regret that FIVE today announce that their comeback is
no more. The band have decided to call it a day, seven months after
reforming. They would like to apologise to all their fans throughout
the world for any dis­ap­point­ment caused. Despite con­sid­er­able broadcast
interest in a reunion tele­vi­sion series being secured, an album being
half-way completed and a world tour in the final stages of
con­firm­a­tion, Ritchie, J, Abz and Scott feel that they cannot continue
together.
A huge amount of hard work and effort went into the
band's reform­a­tion, but with the state of the music business as
it is and with decent record deals being so difficult to procure, the
band were really left with no other option than to split."
It's not all bad, though, because East 17's comeback is the subject of a TV show. From the Popjustice forums (but clearly copy and pasted from elsewhere):
"East 17–The Reunion will follow the progress of Tony Mortimer and
his past band mates as he uses his own money to fund a "massive"
comeback in the hope of securing a new recording contract for the group.

According
to Endemol, the company which owns the pro­duc­tion firm behind the
programme, the 60-minute doc­u­ment­ary will provide a "rare and
fas­cin­at­ing glimpse into the inner sanctum of the music industry"."
The East 17 doc­u­ment­ary is on Channel 4 next Tuesday. It'll make uneasy viewing — ticket sales for the band's Shepherds Bush Empire gig hardly sent Ticketmaster switch­boards into meltlt­down — but it, and the Five debacle, might hopefully make it clear to any other defunct groups from pop's recent past that the fans have gone, pop has moved on, and the skills and knowledge one picks up at the centre of a pop whirlwind are probably best applied to behind the scenes endeav­ours instead of dis­ap­point­ing and humi­li­at­ing due-to-under­whelm­ing-popular-demand comeback fiascos.