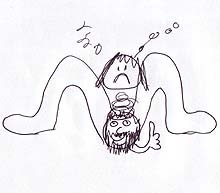 Lil' Chris draws…
JESUS BEING BORN

"I don't really know how to explain what I'm drawing here."
(Chris' worried PR suggests "perhaps you could draw him in a manger".)
"This is baby Jesus coming outâ?¦" (Chris' worried PR notes that "we're all going to hell".)
"He's already got his beard and a full head of hair, and actually he's got a thumb and then there's Mary."
Festiveness: 8/10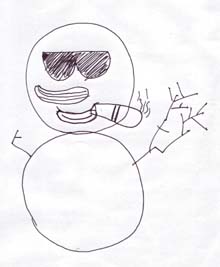 Lil' Chris draws…
A SNOWMAN

"The mouth is a sausage with a hole cut down the side, and he's going to have a cucumber nose just because he's different. He's indi­vidual. He's got his own indi­vidual style.
"Having said that his arms are sticks because he's not that indi­vidual, I mean, we can't change our fingers. We can have nosejobs, but we can't change our hands, can we?"
"So he's got loads of little branch and the one arm is little stub arm cos during birth he got his finger caught. It's a horrible story."
Festiveness: 6/10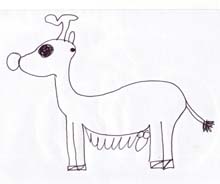 Lil' Chris draws…A REINDEER

"This reindeer is going to have his own indi­vidual style as well, I think all these pictures are going to be in their own indi­vidual style because I can't draw for shit."

"This reindeer has hooves. Can it be explicit in any way? He also has a stub horn. He has a little stubby sausage horn. "

"Because he's realistic, he's got a dong. Yeah."

Festiveness: 5/10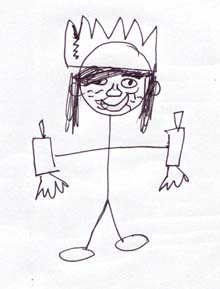 Lil' Chris' draws…HIS GRAN WEARING A HAT FROM A CHRISTMAS CRACKER

"That's the hat, but it's got a little rip in it cos when she was getting it out, she ripped it. She was gutted."

"She's got a little fringe. All those indie kids think they're cool with their sweeping hair. I've got a sweep, but my nanny's got one too, so they're clearly not cool."

"She's got one half of the cracker in one hand and one in the other. She had to pull it on her own because all her friends have got little stub arms."

Festiveness: 7/10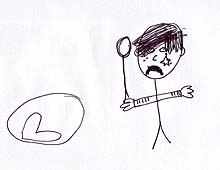 Lil' Chris draws…AN EMO VEGETARIAN EATING CHRISTMAS DINNER

"I was going to draw a smile, but why would be smiling? He's really unhappy. In fact, he's crying because he is so emo."

"He's cutting his wrists because he's really upset but he's cutting them with a wooden spoon. Oh, and then there's the turkey."

Festiveness: 3/10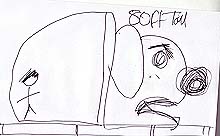 Lil' Chris draws…A DOG ABANDONED TWO WEEKS AFTER CHRISTMAS

"They didn't want him because he's too big. Drawing a big, big nose and a big mouth. Now why would he be happy? I've just drawn a smile again, why would he be happy?"

"The dog is about seven foot tall. That's another emo kid walking past. No, he's eighty foot tall."

"It was a bit of a stupid Christmas present in the first place really?¦"

Festiveness: 7/10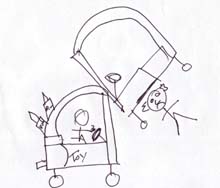 Lil' Chris draws…A DRINK DRIVING ACCIDENT

"This isn't my real car drawing. This is one of those toy 'tyke' cars with another on the top of it. Because they've got holes in the middle, where you push with your feet, there's a baby fallen through the hole."

"This one was pissed and he's got some vodka and some rum in the boot of his car."

Festiveness: 5/10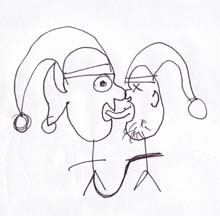 Lil' Chris draws…TWO ELVES KISSING

"Hehehehehâ?¦ This one has a big hat with an earring. He's tonguing the other boy elf. These are homo­sexual elves. All elves are gay."

"This one's got a little stub eye and a stubbly chin and a funny little ear. The other elf is giving him a reachar­ound with his extra, extra long arm."

Festiveness: 9/10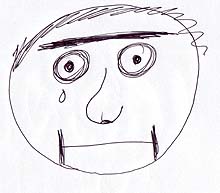 Lil' Chris draws…
A CHILD WHO HAS LEARNED THE TRUTH ABOUT SANTA

"He's a really ugly kid so people don't care that he's crying. People never pay attention to the ugly kids do they, it is a shame because they should."
"I wouldn't tell my kids that Father Christmas didn't exist, I'd let them find out for them­selves. I still believe in him."
"This is the kid, yeah, and he's just got one solitary tear dripping from his cheek. He's really sad."
Festiveness: 6/10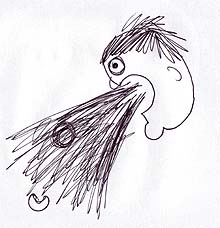 Lil' Chris draws…A LADY BEING SICK AFTER CHRISTMAS DINNER

"It has to be cashew nuts, because that's what happened to me last Christmas. I ate loads of cashew nuts and I'm allergic to them. It's not a dangerous nut allergy, it's just cashews that make me feel sick"This is a person having the fattest spew. Here's a little cashew nut there. Another one. There's a little orange. What's she missing? A nose. There's the nose."

Festiveness: 8/10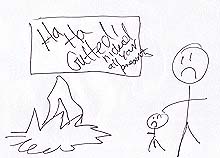 Lil' Chris draws…
A FAMILY BURGLED ON CHRISTMAS EVE
"The Christmas tree has been tipped over and it is totally ruined. It is also on fire."
"There's a mirror in the back, and the robber has spray-painted 'gutted, I nicked all your presents' on it."
"Then here are the family being really sad. There's a baby with one arm and he's the saddest of the lot."
Festiveness: 5/10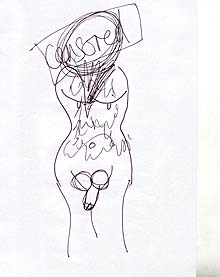 Lil' Chris draws…
NAKED SANTA

"He's sucking in because he's fat. He's got really long nipples and a hairy chest. His beard is there, but his face has been censored so nobody knows who he is."
Thank you very much Lil' Chris!
Lil'Chris' album is out now. Buy it here.