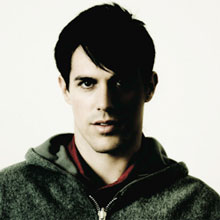 Sam Sparro interview
Questions: Peter Robinson
Answers: Sam Sparro (obviously)
What's happening in Sam Sparro world?
Before you called I was cleaning the house and then I jumped in the shower.
Do you need to be clean?
It's not a ritual but I do like to be clean in general.
Are you wearing clothes?
I'm fully dressed, yes. I'm waiting for a car to come. I'm going to do something for the BBC Entertainment news. I rarely know the details of these things.
Will they be dis­cuss­ing you fas­cin­at­ing life as an inter­na­tional jet­set­ting popstar?
Maybe, I hope they don't ask me anything too serious. It being the news and everything.
Maybe they will be attempt­ing to get your take on war in faraway places. Maybe they're trying to 'sex up' the credit crunch by getting Sam Sparro in.
I'm sure I'll have something to say about that.
When are you going to get your next haircut?
I had one yesterday on the set of a TV show but that wasn't a real haircut, he just trimmed the sides.
Popstars seem to live their lives having their hair attended to in a minor way without ever having major hair operations.
They do.
Do you despair for the human race?
I'm quite a positive person.
Is that the way you roll?
It's the way I roll.
That's the name of the best song on the Jonas Brothers album.
I can't say I've actually heard that album.
It is literally not very good. What's good?
The Santogold album is good.
It's a bit noisy.
You think so? But it's a good album. And the Cut Copy album – amazing. It's a really good piece of work and I could listen to it on and on and on.
To be honest, at this stage in the cycle of pop you've just got to be grateful that there's something that isn't Scouting For Girls.
Indie music like that has become like the S Club 7 of today.
What's your favourite shape of Haribo sweet?
The green ones with the white on the other side. Although I'd go for any coloured one which is a jelly and marsh­mal­low combo.
The fried eggs are amazing.
They are.
If you were to have a Sam Sparibo range of sweets, what would the five major shapes be?
They would be geometric shapes. Maybe like a trapezoid, a triangle, a circle…
That's the first time in over ten years of inter­view­ing minor celebrit­ies that Popjustice has ever encountered the word 'trapezoid' in an answer.
Well it's my pleasure. I think I might have made a mistake because a trapezoid is a type of triangle, so I've made myself sound silly.
Trying to be clever. Backfired.
DUMB!
What's the worst thing someone has ever said about your music?
That it reminded them of Mika.
Not a fan of Mika?
Not his music.
Do you exercise?
I like running the best.
Surely running should be purely func­tional. You run for a bus, or away from a violent youth. Running in a circle is ridiculous.
It's just to burn fat, really.
Have you ever been fat?
Oh yes. When I was about 13, I was the kid with the t‑shirt at the pool. Does it make me a crim to want to be trim?
Oh dear. Some of the people reading this will be thinking, 'I was watching Sam Sparro on TV the other night and my dad came in and went, "who's that, he's dressed like a complete tool"'. How would you explain Sam Sparro's 'style' to a reader's father?
I don't think I'd even bother. Sometimes the things I wear can go com­pletely over my own head so I don't know how I'd explain them to dad.
Do you like the things you wear or do you wear those clothes because you are in a Sam Sparro 'costume'?
No, I love it! It's fun!
Are you doing this interview in character?
I think on stage I'm like an amplified version of myself, but I'm not a different person. Because there's so many people in the room wanting to be enter­tained and I have to try and keep them interested.
How old are you Sam?
I'm 25. It's good to be an old timer in this business, it helps to have that extra life exper­i­ence. You learn that you have instincts for a reason and you learn, as you get older, when to rely on them. And you realise that when it comes to your own life, everyone else is probably wrong.
Is there any point of frus­tra­tion in the fact that you released the best song on your album as the first single and are doomed to spend the rest of the campaign releasing songs that aren't as good?
(Laughs) I think maybe I just wish I'd had time to work on the album a bit more. It was very rushed. I'm looking forward to just going back in the studio and working on the next album, actually.
It must be frus­trat­ing as an 'artiste' that your debut album isn't what you wanted to it be.
Yeah, but y'know, it's not the end of the world.
Yeah! People are still buying it. People will buy anything! Just chuck it out! They liked the single, they'll buy the album…
Well I like a lot of it.
Most of it is alright.
Which songs do you hate the most?
'Cottonmouth'. 'Hot Mess'. 'Waiting For Time'.
Yeah, 'Waiting For Time'. Hm… Anyway the next single is 'Pocket'.
The third best song on the album!
Wahey! Yes, I like that one too.
Weren't you supposed to be working with Xenomania at one point?
I did meet Brian Higgins but he, er, I can't really comment on that. He's a strong per­son­al­ity. I was working with Annie yesterday and she said she got on really well with him. Annie's really sweet, isn't she? All soft and…
You know your Black & Gold video?
Yes.
Where did you find all those extras who looked like you? Did you get them from a casting agency?
I just showed up on the day and they were all there.
Would you have sex with a man who looked exactly like you?
No.
Why not?
Because I'm not autosexual.
How different would a man have to look from you to be poten­tially sexable?
They would have to look quite different.
If they looked like you but with blonde hair would that be enough?
Ooh, no blonde hair. I can't do that. I don't find blondes attractive.
That's going to upset Duffy.
Sorry Duffy! Can I ask you a question?
Yes.
Do you think Duffy looks like Miss Penelope from Thunderbirds?
Duffy wishes she looked like Miss Penelope from Thunderbirds.
Because her head is so big!
Do you keep a list in your special notebook? 'Sam Sparro's Secret List Of Popstars With Big Heads'?
I just noticed it the other day! Maybe it's just her big hair but I saw her the other day and I thought, 'my, that is a noggin'.
Perhaps the big hair is to draw attention away from the big head.
Yes, like shaving your pubes so people think you've got a big dick.
Perhaps it is, Sam. Perhaps it is.
[Sid James laugh]

Thank you very much, Sam Sparro.
*