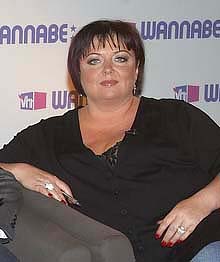 Always The McBridesmaid… Roseann McBride sets the pop world to rights
Roseann McBride is heading back to where she belongs (national tele­vi­sion) on a new reality TV music show for Sky TV. She was orignally meant to be working on a Spice Girls tribute band but the Spice Girls found out about it and put a stop to things. The programme is going ahead, but no one is allowed to use the 'S' word.
In the middle of her hectic audi­tion­ing schedule we asked Roseann to set the pop world to rights and here is what she told us about a variety of important issues.
Questions: Peter Robinson
Answers: Roseann McBride (obviously)
1. Why nobody bought the Kylie single.
"I could just eat Kylie she is so adorable and the '2 Hearts' video looks beyond incred­ible but I don't like the song. I don't think it fits the persona that we all have of Kylie in our heads. Kylie is cool and sexy but it's just too rocky for her and she's proved that she's not a rock chick before, she shagged Michael Hutchence and learned all the tricks from him but she's really not rock. I love her to pieces though and I'm sure she's not crying about it all."
2. The Leona Lewis 'phe­nomenon'.
"She's got an incred­ible voice and she looks beautiful, but she's never going to be anyone who gets loads of newspaper headlines because of what she does and I think we're all going to have to accept that she looks the way she looks and has a fantastic voice but she's just going to be a Dionne Warwick type person — an amazing voice but that's all there is. Maybe she should marry Simon Cowell like Mariah Carey married her label boss Tony Mottola."
3. Why Girls Aloud are still not as popular as Sugababes.
"I'm not a huge fan of Girls Aloud, I think Girls Aloud have done as well as they can do, they're very popular but they're seen as WAG types — very trashy. The Sugababes are perceived as being quite cool. Girls Aloud look fantastic but there's the trash element that you either buy into or you don't. I'm sure there are lots of ten year olds who adore them but the cooler kids in the play­ground will be into Sugababes."
4. Why the BBC never 'gets' reality TV music shows.
"The BBC never get it right because we all pay our license fee to them and they're scared to really let things go. They don't know what works and nobody heading up the broadcast is employing the right kind of people. They are the right kind of people for the BBC but not neces­sar­ily for the show. 'Fame Academy' and 'Dance X' were just poor relations to 'X‑Factor'. They were both damp squibs."
5. The whole Britney thing.
"She's been out of control for the last two years and she's become such a diva. When I first met Britney she was 15 and she was such a sweet adorable young girl, but because fame was thrust on her so early it's all gone awry. There are obviously too many people around her who just let her do whatever she wants and now the poor cow is in meltdown. It's very sad. Somebody needs to take her away from everything and give her the chance to see if she can sort her life out. If she can fantastic, she can come back and entertain us all but there is a real pos­sib­il­ity that she can't, she may have gone too far down that road. It's bad man­age­ment and she is being given bad advice – although it begs a question of whether she is being advised at all, or is she making these decisions herself? It is really sad."
6. Betty Boo's numerous comebacks.
"It was great back then. Sometimes nostalgia works and sometimes it doesn't. I think Betty Boo is one that is best left alone. Poor Betty."
7. Sophie Ellis-Bextor.
"She's not a personal favourite of mine but I think she is very talented, you either have a presence with the camera and when you talk to people or you don't. Her record company have put lots of money into her and even though the album seemed to do quite well at first it just died away. No money is being made from her record sales, although no one is making money from record sales these days. You have to put all your hopes on the tour."
8. What Roseann is up to these days.
"I'm doing a new show, 'Wannabe'. It's myself, Chanelle, Toby Anstis and we were putting together a Spice Girls tribute band and now there's been an inter­ven­tion somewhere along the line from our Spice friends so it's now just a band of over talented over 25s . 'Spice' is now a dirty word around here. We've audi­tioned loads of girls who are abso­lutely gorgeous but who couldn't carry a tune to save their lives and then we've seen a lot of girls who are just downright ter­ri­fy­ing. One girl we told didn't have 'it' sent her mother in, who we all though was going to beat us over the head. She was screaming 'how can you tell my girl that she hasn't got it? It's not fair it's not fair…' that was quite scary. She was 31 years old and brought her mother to an audition. She was obviously not what we were looking for."
Thank you very much Roseann McBride.
*