We had a chat with your friend and now ours Olly Murs the other day and very nice it was too. As you're about to find out, we asked him about hats, his views on ugly people and where he'd take us on a night out when he wasn't messing about with his new chip fryer.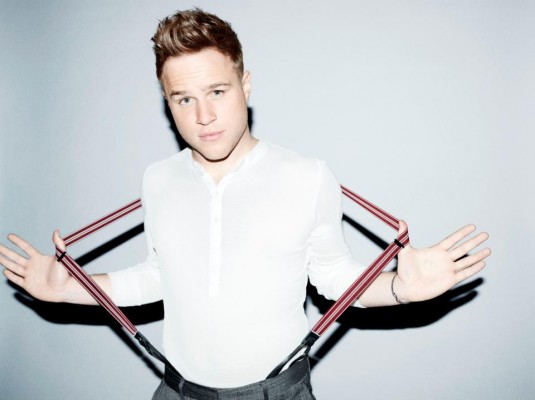 You're welcome.
Hello Olly!
Hello mate, how are you?

I'm very well, how are you?
Good thank you. It's good to talk to you guys.

Yes, what a momentous day this is for everyone involved!
It is a momentous day. I'm feeling very nervous about this.

Really, why?
No, I'm joking. I appre­ci­ate the last six months of stories, so thank you very much.

Last time we spoke you mentioned the search bar on the site, which has now been changed.
What was it again? 'Olly Murs is a C‑U-N‑T', wasn't it?

Well not quite, it was actually 'Olly Murs what a cuddly chap', but unfor­tu­nately the 'uddly chap' bit wasn't visible. It's Jake Bugg now.
Oh really?

What do you make of Jake Bugg?
I like Jake. I heard his gig at the Radio One Big Weekend. I like his style, I think he's cool. He's a talented lad for sure.

What do you think he would make of you?
I'm not sure. I met him at the Brits and said hello to him and said that I liked his music. I'm not one of the cool kids so I'm not sure what his opinion of me would be. He might not like my music, but I think he would probably say 'I've met Olly and he seems like a nice guy'.

Do you think making it to your third album has forced people to think that you might actually be quite good?
I don't know. I don't think so. I've got a great fanbase and I'm always trying to prove people wrong. Your opinion of me over the last few years hasn't been brilliant so it's a case of me proving people wrong and changing people's per­cep­tions of me. My music's grown over the years. People think that when you come off the X Factor you just get put in a studio with some songs and no one gives you chance, but there are always going to be people out there that don't like your music and who don't like you as a person. It's about proving that there is quality to my music and there is substance there.

What didn't help is that one of the first things people saw from you after The X Factor was that piece of Glastonbury 'video content'.
I can't remember that, what was it?

[youtube]5I0sFrTjI2Y[/youtube]

You don't remember? Were you quite 'refreshed'?
I don't know, what was I doing?

It involved you talking to camera backstage in a "hos­pit­al­ity tent" and saying things like "jammin' to the tunes" and "literally download it".
I think it was something off the cuff. We were at Glastonbury watching Seasick Steve…

You weren't watching anyone! You were backstage having a drink.
Oh really. I was probably a bit drunk at the time actually. No, but some people are going to like that and some people aren't. I think you grow as an artist. There are things I did on that first album campaign that I would never do again and probably that initial thing you've just spoken about — I wouldn't do that again. You've got to remember that probably four or five months before that I was working in a call centre. To then be at Glastonbury, which I've never been to before and talking about my music to people was quite exciting at the time.

Do you enjoy doing video content stuff?
To be honest with you, I don't neces­sar­ily love doing all those sort of things. For fans, it's good to get your face out there and not just tweet about it or have my team tweet about it. It's nice sometimes to send out a video and celebrate something because lots of people spend their time and energy tweeting me. Whether you guys like it or other online like it or not, I think sometimes people forget I've got 4.2m fans on Twitter… Not that all of them will like me probably.

Some of them might have followed you by accident.
Some probably follow me to abuse me. The fact that they follow me is a big deal and it means a lot to me to have those people like my music and like what I do.

What did you miss most about the UK when you were in America?
I think I just missed my home. I missed the UK weather (!), I missed my friends. It's good being away and to go there and have some success over there, it's great, but I just missed being at home. I missed reading all the stories you guys write about me.

Have you come back spelling 'neighbour' wrong?
(Laughs) Probably yeah. I'm speaking in the American lingo, like garbage and restrooms. Elevator. There are little things you pick up.

Can you spell neighbour now, please?
Neighbour? N‑E-I-G-H-B-O-U‑R.

Just checking you hadn't dropped the 'u'.
Of course not, of course not.

How does America feel about popstars wearing hats?
I only wear one over there because normally I can't do my hair. It's a bit tricky for me to do. I just think 'sod it, I'll put a hat on'. But they love a hat – when you're in Texas or Dallas they love a hat.

Has Bruno Mars mono­pol­ised hat-wearing over there?
I think he probably has. He's made it trendy and cool. I don't think I've had any bad press or neg­at­iv­ity from wearing a hat.

Are you wearing a hat now?
I actually am wearing a hat now. I'm wearing a flat cap. An old school farmer's hat.

Is that your promo hat?
It it my promo hat? No, it's me just casually waking up in the morning and not being bothered to do anything with my hair.

If someone had never seen you and read this they'd think your hair was some elaborate, multi-faceted 'do', which it isn't really.
It's not, I'm just really lazy in the morning. I can't be arsed to get up really early in the morning. Some people love looking at them­selves in the mirror but I don't really like doing that. There's nothing pretty to look at.

Come on. Let's not be silly now. Would you ever wear a small hat under a big hat and then whip off the big hat mid-per­form­ance?
(Silence) No, I wouldn't do that, no. I've never done that, no.

Is there a type of hat you'd never wear?
I don't like… The big hats, the big cowboy hats. Or top hats.

You'd wear a cowboy hat in America though if it got you on the radio.
I think so yeah. If someone told me to do it to get some more record sales I probably would, yeah.

What wouldn't you do to get more record sales?
I don't know actually. I'm not silly – if it was something that was going to benefit me and I was com­fort­able doing it then I would.

Do you take pity on ugly people?
(Silence) No! I think we're all born the way we were born. I'm def­in­itely not the best looking guy in the room.

Do you think maybe you do it sub­con­sciously?
No! I mean, we're all different. I'm sure there's better looking popstars than me and there's ones that aren't as good-looking as me.

Which popstars aren't as good-looking as you?
(Olly's PR inter­jects at this point and suggests that we move on.)

Ed Sheeran recently fell over on stage — is he trying to steal your thunder?
I actually tweeted him saying I felt sorry for him and checking that he was alright. He took a worse tumble than me.

With your fairly spec­tac­u­lar stumble, was it actually really painful?
I really hurt my back and my leg and my index finger. I carried on and styled it out well.

How respons­ible do you feel for the existence of Loveable Rogues?
I think they're great lads and they're really talented. I'm chuffed that their single went into the Top Ten. They didn't get much radio play and support on the record. I think they're cool guys.

'Dear Darlin'' is your current single.
Yes. Do you like it? Do Popjustice like it?

Yes, we do. We quite liked 'Army Of Two' as well but the video was appalling.
I probably agree with you that it wasn't the best video. I think it was good until we got it back and we realised it was a good idea but it didn't quite fit. It's nice to try something new. I love the new video though – it's very basic, but it gets the message across.

You said that 'Army Of Two' was written a a tribute to your fans — did it annoy then that it didn't make the Top Ten?
Not really, no. You always aim to get into the Top Ten but I think with 'Army Of Two', we did two singles then the album last time but with this one we did 'Troublemaker' and then we released the album so 'Army Of Two' was to sell more albums, which it did. I think it did really really well. I don't think it was a tribute to me fans but it was a song I did for them and hopefully we can grow into the future together.

Underneath the 'Dear Darlin'' video on YouTube, one of the comments from 'roman G' is: "I don't know whether I should Download this or not". How would you convince 'roman G' to part with 99p?
I just think, again, if he's unsure about buying it then he's unsure. I think the song itself is a cool ballad. It's not a typical cheesy ballad. If he's unsure then he's unsure.

[youtube]m20BTdy9FGI[/youtube]

Did you think you'd make it to a third album?
Not at all. I thought after my first album that I'd be a gonner. I'm lucky that I've been able to write some good songs.

Are you sticking to this album a year release pattern or will you have year off?
We're not releasing an album this year. We're going to release a few more singles off this album and then write some new music over the start of next year for next summer.

How often do you think about Joe McElderry?
I was thinking about him recently actually. I was listening to his last album and there were a couple of songs I really liked. I haven't spoken to Joe for about a year which is a shame because he's such a nice lad. He's a talented guy and he's got a great voice.

He duetted with Beyoncé recently of course.
Yeah I saw that when I was in America. It was very funny. I've lost contact with him so I don't have his number anymore but I wanted to message him because I knew how much of a massive fan of Beyoncé he is.

I hope she realises he's a singer in his own right.
I'm sure she found out after­wards.

When Beyoncé was per­form­ing recently a fan smacked her on the backside and she joked she'd have him removed from the crowd.
He got his bum out?

No Olly, he slapped her bum.
Oh he smacked her bum? Oh right.

Would you ever be brave enough to slap Beyoncé's bottom?
I suppose if the oppor­tun­ity was there. I think anyone who had the chance to slap anyone's bum would be there, but it is an invasion.

Has a fan ever groped you?
Yeah, we did a thing last year where I had to come through the arena back to the stage and I was getting groped left, right and centre. Mums and nans and aunties. It was a lot. I wasn't bothered by it at all.

What do you call your fans?
I call them the Murs Army.

Who came up with that?
I think I did.

It's quite aggress­ive.
Do you think?

Well, an army.
No, I just think they're just an army of fans who really like me. It was quite simple and effective and stupid I guess.

Were there other options?
The Olly-ettes. I thought it was a little bit camp. Then there were the Troublemakers, but then I wasn't too sure about that. Murs Army is a little easier and when you're tweeting it's fewer letters.

What are your plans for tonight Olly?
Tonight I'm going home and cooking some dinner. I might have some lasagne or some chips. I got a new chip fryer for my birthday (!!!) from my family members, so I might have some chips on the go tonight.

Aren't chip fryers quite dangerous?
It's kind of a new thing. It's quite cool. It's a little round box and you put the chips in and they go round in a circle for ages.

You can watch them?
You can watch them if you've got nothing to do with your life.

That's an insight into my evenings.
Watching chips go round.

So it's lasagne or chips? Not together?
I haven't decided yet. I might have chicken and chips actually.

So no big showbiz parties?
Not tonight. I'm not really a showbiz party kind of guy. I don't really go to many parties in London.

Really?
When was the last time you saw me hanging out in a party in London?

I'm sure I've seen you on the Daily Mail sidebar of shame.
No! Never! I probably was a year and a half, two years ago. I'm not that kind of guy. You've got me totally wrong. You think I'm this party animal that's all cocky and arrogant and has a a face like a potato (?!). I com­pletely agree with the latter by the way. But no, I don't really go out in London, I don't like being papped.

If you were to take Popjustice out for the evening where would we go?
I would take you bowling. I don't know why, but I just love bowling.

Would we have dinner before or after­wards?
It depends what you want. I think for a good date to work, I think going bowling first because then we can have a chat…

So this is a date? It was never described as a date.
Yes I know but for us not to have com­mu­nic­ated for a year I think we need that time. I think we need to go out and do something sociable and we can decide after­wards about dinner, but only if we're lucky. I might be having a nice time but you might turn round and say 'this guy is def­in­itely a C‑U-N‑T, we still don't like him'.

Thanks Olly!

•

'Dear Darlin'' — which is literally very listen­able — is out now on iTunes, at this link.

Incidentally if the next single isn't the VERY GOOD INDEED 'One Of These Days', there will be big trouble.

[youtube]ptV-rOF4z3k[/youtube]

Good, right?