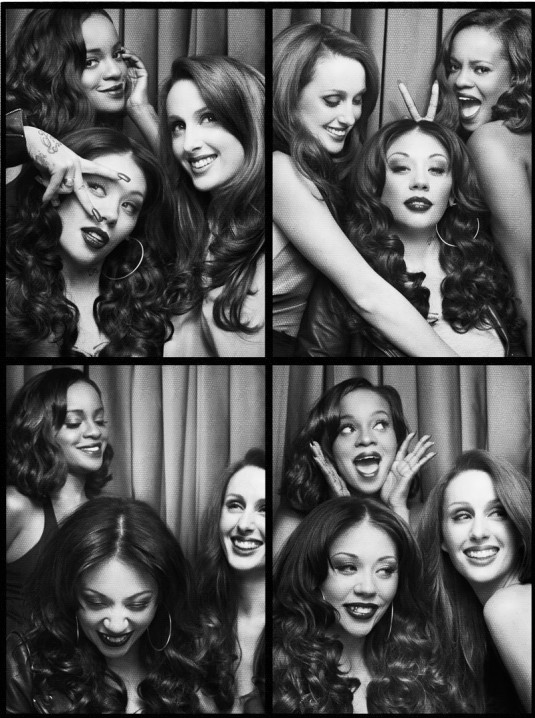 This time last week, we met up with Mutya Keisha Siobhan — for that is the name the Origibabes/Propababes/Whatevababes will be going under — for a chat.
Two points before we go any further.
First: the music sounds really good. We're still not allowed to say very much about it, but it's offi­cially 'not shit'.
Second: before we met up with them we were a bit worried that the whole exper­i­ence would be quite ser­i­ous­face and awkward but as soon as you sit in a room with the three of them you can tell it's all fine. There is lots of laughter and fun and stuff like that.
Our interview with the girls is their first as a band since 2001, and we'll be putting the full text online soon. For the time being here are five things we learned from the chat, with some sup­port­ing quotes so you know we didn't make the whole thing up.
POINT ONE: YOU SHOULDN'T READ ANYTHING INTO THE ORDER OF THEIR NAMES IN 'MUTYA KEISHA SIOBHAN' BECAUSE IT BASICALLY JUST SOUNDS GOOD
Siobhan: People seem to say it in that order quite naturally. It seems to roll off the tongue like that.
Keisha: Mutya, can I just say something? I found a link the other day which I really want to show you. It's a clip of you when you're 16 and they ask you why we came up with the name 'Sugababes'. And you go: "Well we had to have a band name because we couldn't have people just calling us Mutya, Keisha, Siobhan." (Everyone laughs) Amazing! It's so cute. It's when you were innocent.
Mutya: I'm still innocent!
POINT TWO: KEISHA IS FINE ABOUT WHAT HAPPENED WITH THE SUGABABES THANKS VERY MUCH ALTHOUGH THE DETAILS ARE A BIT LONG-WINDED
Keisha: Have you got an hour? (Much chortling) Basically, I can't say too much about it — legally I've been told I can't speak about it. But what I will say is that when everyone else found out I wasn't in the group is pretty much when I found out. I will say that we had a great rela­tion­ship, me and the girls; I've never had an argument with Amelle in my life. I was really shocked by the things that they were saying because I'd always been there for them, and they were there for me as well… But, you move on, and you learn, and I learned valuable life lessons during that period… I feel like everything has gone full circle and right now I'm exactly where I'm meant to be. And I genuinely wish them the best of luck. I know people are always going to say, "oh, you've got to say that"… To be honest with you I was very hurt and dis­ap­poin­ted and I did feel betrayed by the whole thing. But I feel like when you don't forgive people and when you're very bitter it's not really doing anything for you. But I'm in a great place, and that's all I care about. Onwards and upwards.
POINT THREE: THEY'VE TALKED ABOUT WHAT WOULD HAPPEN IF SOMEONE LEFT THE BAND AGAIN
Siobhan: Then that would be the end of that.
Keisha: We've had dis­cus­sions. We have a way of working: we trust each other. We look after each other. We are genuinely there for each other. If we were unhappy we'd tell each other and we'd figure it out, between ourselves.
Siobhan: Everything is a group decision this time round.
Keisha: There will be no over­work­ing people to the point where they're depressed. There's none of that stuff. We all have the same inten­tions. You need that. I've always wanted to be part of something where I genuinely felt sis­ter­hood, and I feel like I've def­in­itely found that now.
Mutya: Well thank you very much.
POINT FOUR: THIS WHOLE REUNION THING ALMOST HAPPENED IN 2009 (BUT DIDN'T)
Keisha: Well, back in 2009 I was contacted by the girls through my lawyer, and they were kind of like, 'do you want to meet up?'. We all met up. I'd only been out of the band for three months and I'd just had enough of girlbands. I'd had enough of the WHOLE THING… Anyway, basically, they contacted me and we sat together and I actually really wanted to see the girls. Me meeting up with them was more about me wanting to see them than actually thinking about getting the band back together. Because like I say it was only three months after I'd left the Sugababes. So we decided not to do it. And then last year, in 2011, we were contacted by a producer. He put it to us: he said, "let's record a few tracks and then see". And we did. And we loved it.
Siobhan: He actually called me which was weird because I'd never worked with him before… And I said I'd only do it if it was with the other girls. (Firmly) I didn't want to do another project on my own.
Keisha: We basically said, "yes, but we want to do it on our own terms".
Siobhan: We didn't want anyone to organise it for us. We wanted to steer the ship ourselves, which is what we did.
POINT FIVE: THE MOMENT WHEN THEY ALL SANG TOGETHER AGAIN FOR THE FIRST TIME WAS QUITE SPECIAL, AS YOU MIGHT EXPECT
Siobhan: The first time we sang in a room together and worked out our harmonies and sang them together was recording a song called 'Too In Love'.
Keisha: It was the first time we'd sang together since we were 16 years old. To be honest with you it wasn't an instant thing. When we were younger we gelled straight away, but we had to learn to blend with each other again.
Mutya: It's been a while!
Keisha: Yes. It was when we came to do another song, 'Love Me Hard' — that's when I first properly heard us blending.
Siobhan: That's when we knew that we properly had to get back together. You never know if that magic is still going to be there. If it's not going to be as magical as the first time around you don't really want to do it, do you. The minute we sang together, we looked at each other, and we knew. It just worked.
Mutya: It was emotional.
Keisha: It was so special to be excited about hearing our voices together, and being excited about our music. On my days off I'd go home and I'd listen to the tracks. I'd be like, 'I'm really enjoying this'. I just enjoyed our music.
Mutya: We've got some really good songs.
Siobhan: For me, it's the first time in years that I've been excited about even attempt­ing a music project. I'm super-excited.
IN SUMMARY
1. It's the Sugababes but don't call them the Sugababes.
2. They're excited.
3. We're excited.
4. You'll hear some music soon.
5. Amazing.