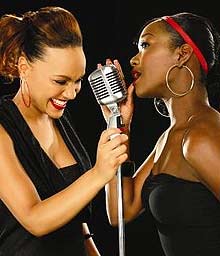 A bit of a chat and then some album demands with Booty Luv…
No one is more surprised than us that Booty Luv are turning out to be half decent.
Their new single 'Shine' is one of the best pop records of 2007 and they were an early highlight at the second Popjustice Live event.
Because we love them so much and to make sure they don't go to the dogs anytime soon, we took the oppor­tun­ity to have a sit down with Cherise and Nadia in order to give them a few pointers on the album they are about to record…
Questions: Peter Robinson
Answers: Booty Luv (obviously)
Hello Booty Luv. Are you more shocked than anyone that you are releasing a second single?
Nadia: It's still quite shocking. We thought the one single would be it and then we'd carry on doing Big Brovaz or whatever.
When are you going to have some input in the Booty Luv 'project'?
Cherise: We've just been talking about it. We are about to get together with a couple of producers, maybe a couple of writers…
Nadia: With the album we're going to have a couple of cover tracks and a couple of our own tracks — we want to show that we can cover a track and make it as good as the original, then do our own tracks and make them sound as good as the covers…
Considering that you are the greatest duo in the history of music, is it time to put Big Brovaz to rest?
Nadia: We have put out a new Big Brovaz album but it's just not stepping up those steps as quickly as Booty Luv is.
Cherise: We have finished all the promotion for the Big Brovaz album. Right now it is all Booty Luv.
Nadia: Oh hang on… (PR delivers drinks)
What are the male Big Brovaz members doing now?
Cherise: They've got loads of stuff going on. They're acting — little bits and bobs — they're into property and stuff.
What the hell was the thinking behind trying out for Eurovision?
Nadia: In the beginning we were quite reserved about doing it – we just weren't on it at all, but Big Brovaz would try anything and we were quite easily persuaded!
Cherise: We wanted to make the show credible and I think we did a good job but it just wasn't good enough.
Nadia: Scooch were poo.
Cherise: Every person who entered knew as soon as Scooch turned up in their costumes that they would win it.
Nadia: (Knocking back drink) Oh. That's just water – and the bar's not open.
Cherise: We wanted brandy and Coke.
It's the middle of the afternoon!
Cherise: We should have just got empty cups because I've got some brandy in my bag.
Nadia: I'm just going to ask for some Coke so we can mix it in. We perform better when we're drunk.
What would your ideal track to cover be?
Nadia: There are so many! I heard one the other day but I can't remember what it was.

Well, it is just as well SOMEONE is approach­ing this Booty Luv thing with some sense. Let's talk through some sug­ges­tions we have for you…

Deborah Cox – 'Nobody's Supposed To Be Here'
Cherise: Oh that's a classic!
Nadia: That'd be a good dance track.
Kele Le Roc — 'My Love'
Nadia: I was listening to that yesterday. It's a very good track but we probably won't want to do it. It's too recent but it is a banging track.
Judy Cheeks — 'Reach'
Nadia: You've got some good selec­tions. We'd love to do that one! Bloody good…
702 — 'Steelo'
Nadia: Oh my God that was my favourite track – how does it go…
Cherise: Ahem… (Sings entire song)
Blaque Ivory — 'I Do'
Nadia: Oh my gosh. Can I get that bit of paper?
Cherise: Love it.
Degrees Of Motion — 'Shine On'
Cherise: (Sings song) Can't we just get the recording of this interview and chuck that on the album instead?
Nadia: We'll take your iPod as well. 'Shine On' is a wicked tune…
Monica — 'Before You Walk Out Of My Life'
Nadia: Oh yeah! Oh wow! Are you thinking of not making it into a dance track and doing a slow song? I like it!
Cherise: That would be a good idea to do the whole album as a dance record and then have the last track as a beautiful ballad – I think Popjustice should be execs on the album!
Lipps Inc — 'Funky Town'
Nadia: Not too keen on that one. It's a bit 'hen night'.
Cherise: It is, isn't it…
Hazel Dean 'Searchin'
Nadia: (Sings 'Searching' by China Black) Oh, that's the wrong one!
Record a few of those and you will have the best album of all time.
Nadia: I think we've got a Number One album on our hands…
*