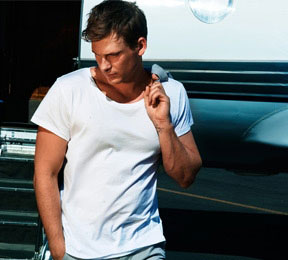 Lee's got a record out, but what's he got to say for himself?
THIS.
Questions: Peter Robinson
Answers: Lee Ryan (obviously)
Hello Lee. You're driving — where to?
I'm on my way to Leeds — I've got a gig up there which has just come in. It's a little corporate event. Well they're like your bread and butter.
More than record sales?
Well I don't know — you can still make a lot of money through records sales, I think. You've got PRS and things like that. As a singer you've got a lot of streams of income that you could take from. I think what's different these days is the structure of record labels, and how they make their money. Record sales are declining across the board but now they're more into touring and mer­chand­ise. Touring's very strong — you can't download that exper­i­ence, can you.
What are your live plans now?
I love playing live, I really do. At the moment I'm just waiting to see how this single does, to be com­pletely honest. It's such a nerve-wracking time. I've worked for four years to get to this place right now. I'm just so nervous about it. I've worked so long and so hard and taken different routes, and turned down a lot of other offers because they didn't feel right… Then I got the right offer from Colin (Barlow, at Geffen Records) and it just felt right. But it's taken me a long, long time to get here.
You say you're scared about how many it sells. Obviously musicians talk a lot about 'I'm just happy to have made the music, it doesn't matter how it sells', isn't that something you feel?
That's bullshit. Am I happy that I've made music? Yes — I'm happy and I'm really proud of it and I listen to my album all the time, and my family and friends like it. But I don't make music because I want my family and friends to like it — I want to share it with the world.
The other point being that if a single does well, it makes it more likely that you'll get to release another.
Yes. It means I get to release the album, which is more important for me. I want the album to come out, I want people to hear the body of work that I've done. The first album I did, I didn't write any of it, I just got given a lot of songs and I didn't even know how to promote it because it didn't make any sense to me. This time round I've really walked the walk, I've been to America, come back, been through turmoil and stress and anxiety, thinking I'd never be able to come back into this industry again, and I've had the oppor­tun­ity to really take four years out of my life to come up with this album, so it means a lot to me.
Presumably part of that period was spent coming to terms with the fact that you're never going to be as big as Blue were.
This album is more about what I'm trying to say.
So what are you trying to say?
I think I'm the backbone of this album. I think a lot of people have a mis­con­cep­tion of who I am. It's people in the industry and it's people in the street. I was out the other day and I was walking through Hyde Park with my guitarist and we sat down and just started jamming with these people who were queuing for a Kings Of Leon concert. And we were sitting and talking with them and I said, 'I've got a new single out', and they said, 'play us your new single then', so I just started playing it with my guitarist, and they all said 'wow man you can really sing and I love that song'. And one bloke went, 'and I've got to be honest with you, I thought you were a knob but you're actually quite nice'. The thing is I say stupid shit but it's normally in jest. I don't know why people take me so seriously sometimes, like I mean everything I say, or something.
There is this per­cep­tion, generally, of 'Lee Ryan: Massive Twat'.
I see that. I totally see people going 'Lee Ryan is a prick'. But why? I'm not arrogant, I don't think I'm better than I am… I've seen people in this industry with far better repu­ta­tions for being 'cool and nice' than me, who are far bigger arseholes. I just try to be nice to everyone.
This is slightly confusing, though, because in one hand you're saying 'stop taking me so seriously', but on the other hand you're saying 'please take me more seriously'.
The thing is, when I'm being silly, or when I'm doing funny inter­views… Well the thing is I don't mind taking the piss out of myself. I take my music seriously, but my life? Life's too crazy to take too seriously. How can anyone take this life seriously? The world is in turmoil! I find it hard to take life seriously, and if I did I think I'd go nuts. I like being silly, I like being funny, I'm a child at heart really. I suppose there's two sides to me really.
We should get this out of the way because you've been talking about how important your music is to you and so on, but the single you've got out now is actually a cover version of a song by someone else, isn't it. Perhaps can you just explain why it doesn't matter than you didn't write 'I Am Who I Am'.
There's two songs on this album that I chose to be on this album. I recorded 'I Am Who I Am' before ('I Am Who I Am' writer) Jamie Hartman put it on the Ben's Brother album. I wrote a load of songs with him, one called 'Mockingbird', one called 'In The Arms Of Your Love' which is about God and it's a beautiful song, and he played me 'I Am Who I Am' and I just related to it straight away. On this album there are a lot of songs that I've written and they feel personal to me, but this song feels just as personal to me even though I didn't write it. So it makes sense to me in that way — it's not like an instance of some song where I haven't got a fucking clue what it's about and the label have just given it to me to sing because they think it'll be a hit. Do you know what I mean? I still feel like I can own that song.
Is the right answer.
Thank you!
Would you rather be trampled by a cow or eaten by a pig?
(Laughs) Are you trying to get me to be that silly person, now?
Your answer doesn't have to be silly.
I'd rather be trampled by a cow because it'll be quicker.
So Batman Begins was on TV the other night.
I was watching that as well.
We were watching it at the same time. That's good. Anyway there's a scene in which he's sort of going off the rails a bit and dicking around and he's coming out of a posh club covered in water because he's been splashing around in the water feature and he's obviously having a great time, then unex­pec­tedly he bumps into his childhood sweet­heart and is imme­di­ately embar­rassed and explains that deep down he's still the sensitive guy he was as a teenager. And the woman out of Dawson's Creek says…
…"it's not what's deep down, it's your actions".
Yes. And that's basically you isn't it. There's this defence you've always had of 'deep down I'm really very thought­ful you know', and you actually are quite thought­ful and complex, but really the fact is that extern­ally you're just Lee Ryan running rampage and doing weird things. And maybe that's what matters. The question, really, being: did you watch Batman and think of yourself?
Well I don't know if I've done anything weird recently. I mean when I was a kid I did some stupid shit but then who didn't when they were at Sixth Form or University, which is the age I was when I was in Blue? I was having fun and being a teenager… But lately I don't think I'm doing anything weird. I'm a dad! I stay at home with my missus. I enjoy cooking. I go to work and I come home and see my family. (Pause, and then with impec­cable comic timing…) I mean I punched that taxi driver but the fucker deserved it.
That's exactly the sort of Batman think we're talking about, isn't it. It doesn't matter if you're writing a pensive album about your inner feelings if you end up punching taxi drivers.
But he started on me, and then he pushed me, and he got in my face, then he went to attack me and I punched him first and I got done for it. It was self defence, but the way it was reported was 'violent Lee Ryan hits taxi driver'. But what was I supposed to do? I'm not going to let anyone hit me. So, erm… But since then, I don't think I've done anything. Do you know what it was? I went to America and I stopped everything. I came out of my solo project, I was shit unhappy, I was doing a lot of stuff I shouldn't have been doing, I was drinking a lot really badly and putting on a lot of weight. I was deeply unhappy. I got on a plane and just went to America. And I found myself there. I sat on the beach, watched the sun go down with the guitar in my hand. I became a bit like Jack Johnson. I forgot who I was.
Did you want to be Jack Johnson?
No, I don't really love his music. But I did get on a surf board. It was a bit 'Englishman in the water'. I wasn't very good on the surf board.
Moving on, there's something we need to discuss. In Blue it wasn't there. When you had your first solo stuff out it wasn't there. When you did Celebrity Come Dine With me it WAS there. It's there now. Let's discuss your odd half moustache.
A lot of people talk about that. I'm 27 but it's the most I can grow! If I don't shave it doesn't fill up on my face properly. I'm lucky to have a baby face I suppose.
Do you shave the rest of your body, including Things That Shouldn't Be Shaved, as per the Olde Laws of The Boyband Member?
I don't shave anything else…
Do you think there should be a written test to be a popstar?
Simon Cowell would probably be the head­mas­ter.
Media training is a bit like an aural exam. Have you ever had it?
They con­stantly try.
How did that go?
I've always hated it. All media training is, is for people with no per­son­al­ity who don't know how to get their per­son­al­ity across. You know what? I enjoy being me. And sometimes I get taken the wrong way. I can't help that. I think it's just human nature. But the thing I've noticed about the press is that you can say what you like, but they'll just print what they want. That's one thing I'm not green about. A prime example is the way I met my fiancee — they say she's a fan who sent me sexy pictures on MySpace, but she wasn't a fan and you couldn't even send pictures on MySpace when we met. I clear it up in every interview, but then the interview says 'Lee, who got a fan pregnant', and it makes me look so bad!
So how does one learn to deal with this, then? Because you know that by answering back or attempt­ing to set the record straight it just makes it worse. How do you learn to allow people to say things that you know — and they often know — are untrue?
I don't know… I mean I think the press like to think of me as 'bad boy from Blue' or 'ladies man Lee Ryan' but I'm not! When I was a kid I loved that little image I had, and it seemed fun, and I had no respons­ib­il­it­ies. Now, ten years later… Well, I'd love for everyone to stand in line then write down all the things they got up to when they were a kid, then read it out to everyone. Everyone's got shit they did.
What else are you working on at the moment?
I'm producing a film at the moment, which is brilliant. I wrote it too. It's going to be a big up yours to everyone.
What's it about?
Dyslexia. It's based on a young boy who gets diagnosed with ADHD who gets given Ritalin. It's set in the early 70s and follows him through all of his life. There's massive interest in it now. I suppose people might think that I'd write some sort of gangster film but this is quite an intel­li­gent — if I do say so myself — psy­cho­lo­gical thriller. It's really good. Honestly. I'm so proud of it. We're looking to shoot at the start of next year. I love music. I mean I'm doing my solo album this year — hopefully, if the single goes well — and I'm getting back in Blue next year, and I've got the film… And another film. It's a horror!
What role do you play in the horror film?
It's a film about cannibals. It's a very good script. It's the same guy who did The Heavy, the film I did with Vinnie Jones.
Do you get eaten?
Well let's not go into it, but it's about can­ni­bal­ism.
There is one final question. You can pass on this if you like, it's a bit of a shitty question but it's quite inter­est­ing.
Go on then.
You know when you and Duncan were with groupies, you on one end, Duncan on the other? Did you know that he fancied blokes?
Oh dear, this is where my record label media training should kick in. Well I said that comment about that story… Actually do you really want to know the honest truth about that?
Go on then.
I was told to say that.
What do you mean?
The label and man­age­ment were like, 'you need to start being a bit more outspoken in inter­views, you're being too boring. Lee Ryan being a changed man isn't really cutting it'. And I remember my press guy said to them, 'don't let him loose. He'll say some shit and you'll regret it'. Anyway I did that interview, and mentioned that whole thing, and got a phonecall straight after it came out, going 'actually, let's just stick to Lee Ryan being a changed man'. Ha! The thing is I'm quite truthful, and this isn't a very truthful industry, so I'm always going to stand out. There's a lot of red herrings out there, for sure!
If this interview were a herring, what colour would it be?
It would be luminous!
What's inter­est­ing is that you say you didn't learn anything from your media training, but what you've just done there — steered the con­ver­sa­tion away from a tricky question having not actually answered it — is kind of 'media training gold'.
(Laughs) Well that's 11 years in the industry for you.
And you in fact did it so well that we're going to let you off the hook.
Thanks!
*