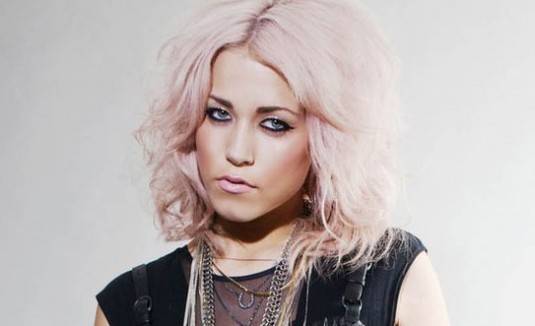 Right Amelia, do turnips bring you joy or sadness?
Joy. (Laughs uproari­ously)
Dairylea?
As in Dairylea Dunkers? Joy.
What about the triangles?
(Thinks for a bit) Joy.
The global debt crisis?
What on earth is that?
The recession.
Sadness.
Does it affect you day to day?
I don't really know much about it, so I can't really say. I'M SEVENTEEN! I don't know about stuff like that.
EastEnders.
Sadness.
Why is it so bleak all the time?
To be fair, it's cool, but I never have time to watch it so I'm quite sad about the fact that I can't watch it.
Do you watch any soaps?
I don't have time. I like 90210. I don't even have a TV!
Monkeys?
Joy.
Monkeys in a zoo?
(Thinks) What type of monkeys?
But the concept of having monkeys in a zoo, does that bring you joy or sadness?
If they attacked me then sadness, but if they were cute little fluffy ones that just ate bananas all day then joy.
But they can't run around Amelia!
That def­in­itely brings me sadness. I hate animals being locked up.
Watermelons?
Joy.
Cats?
Sadness. I think they're sly. Very sly. I'm a dog person. Dogs are more fluffy and playful and cats are just "miaow" all the time.
Carpets?
Sadness. Ah, actually no, joy. I don't like cold floors.
Garlic?
Now that's a mixture because it tastes unreal, but it leaves you with bad breath, so I'm going to say "joyness".
Kelly Rowland?
Joy.
Good. Buy one get one free yoghurt offers?
Joy! You can't go wrong with a bargain.
Telephones?
Joy. Apart from mine's just broke. (Pretends to cry) I've just taken it to the shop because I couldn't find a network.
'Billie Jean' by Michael Jackson?
(Immediately) Joy.
But you know why you're being asked that?
It wasn't the right song, but I still think I performed it my best. I think that it was good to try something different and hey I think I pulled it off pretty well. I was only 16 and you're always not going to get it right sometimes. I'm probably going to make loads of mistakes but like I said it's the best thing that could have happened for me going back into the show. 'Billie Jean' actually did me a few favours.
The Olympics?
Sadness. Only because of the incon­veni­ence of where I live.
Where do you live?
Canary Wharf. It's going to be a nightmare. The traffic has started already. It will be a bit of a nightmare, but still joy at the same time because [sound the media training klaxon] I think the Olympics is pretty incred­ible and good luck to everyone that's doing it.
*
'You Bring Me Joy' is out on August 26.
*