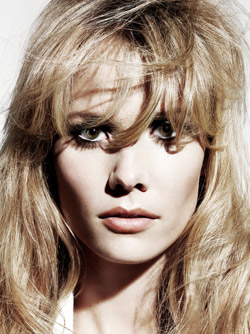 A chat with Oh Land
Questions: Jon Gabony
Answers: Oh Land (obviously)
Hello, Oh Land. Apparently you are a 'cinematic elec­tro­pop Dane'. What does that actually mean?
My mum was an opera singer. My dad was a composer. I grew up listening to a lot of classical music, orches­tral music, ballet music and opera. When I got a bit older I listened more to elec­tronic music. My music is a mix of those two worlds. When I write songs and go into the studio, I sing very visually. I try to see my songs as little films. I try to decorate the landscape that fits the songs.
So you see the pop video while recording a song?
No, it's often not that specific. It's more abstract. I see a landscape or imagine a setting to get inspired for what sounds to use.
Do you imagine your listeners conjuring up same sort of images?
I don't think they'll come up with the same images but I hope they'll get some emotion from what I describe with sounds. I hope they'll get some feeling of stepping into another world.
Wonderful. Unfortunately cinemas are quite expensive. Will you charge us nine quid for a hot dog and a fucking massive Coca Cola?
Hahaha, no I wouldn't, I would give it all for free!
That's very generous. Perhaps that is because you used to be a ballet dancer. When we come to an Oh Land show can we expect the odd plie or pirouette?
I do move a lot on stage, I dance a lot but I try to not do anything that's tra­di­tional. I've been dancing for too many years in my life. I'm kind of bored with that drive for certain per­fec­tion and beauty and ideal of how to do things that you have to do in ballet because there's only one way to do it right and one way to look beautiful. I guess I got a little bit fed up with that so I try to move in a way that's more like con­duct­ing my music when I'm on stage. I just move in a way that I feel expresses my music the most.
So no tutus?
No tutus.
Oh dear. You moved to New York to pursue your music career. Madonna claims to have been dropped off in Times Square with just $35 to her name. Was your exper­i­ence similar? Presumably the $35 would have been adjusted to take account of inflation over the last few decades.
The first time you go to New York, espe­cially when you come from a small place like Denmark, it's very over­whelm­ing because there's so much going on all the time. I'd never really seen a sky­scraper before I came to New York. The energy there really inspired me and made me write in a way that I'd probably never have written if I'd just stayed at home. When you come to a new place everything is unex­pec­ted. You never know exactly where you are or who you're gonna meet. That's a very inspiring place to be. Copenhagen is a very very small city compared to New York!
When you think of all of the greatest pop songs of all time — by anybody — which one do you wish you had written?
There are many amazing songs I wish I'd written. Maybe because I know it would never have happened, 'Redemption Song' by Bob Marley. I just know that I could never have written that specific song myself.
Right. Is Bob Marley one of your favourite artists?
Not espe­cially.
Oh.
I love his music but I think I'm probably more a fan of songs than artists.
Will anybody ever say "my favourite singer of all time is Oh Land"?
That would be amazing. I think probably my mum and dad would say that.
Well they have to.
Yeah, hahaha!
You've said you'd like to support Radiohead. Please explain your motives.
I was intro­duced to Radiohead quite late; the first album I heard was 'Kid A'. I needed to hear that album first to get into rock music because that album was so much more than rock. It was elec­tronic, it was exper­i­ment­ing, it was also classical in the way the arrange­ments were done, in the phrasing and dynamics. I came from a classical world so I needed that record for me to start listening to rock music. For me it was a whole new way of making music. I always respect when people can do that. I love 'Idioteque'.
If you hadn't become a popstar the tra­di­tional way, would you have audi­tioned on Idols?
No, I would never consider that. When you do that it's about just being a singer and not about being an artist or writing songs or going into pro­duc­tion. I totally respect people who do that but my music comes from a much more private place. I was lucky that people started listening to it and I didn't have to go on a show like that. For me it's about making the music and it's not just about being an idol.
Would any of your songs work as an X Factor winner's single?
Yes! Actually, I have one song called 'Audition Day'. Because of the theme in itself it would be a great song for a show like that. That song spe­cific­ally is about what you want to sacrifice for your goal.
You have said that you are a bit like Alice In Wonderland. If you are the Alice of pop, which popstar is the Cheshire Cat and who is the Mad Hatter?
Hahaha, that's a good question! The Mad Hatter would be Jack White from the White Stripes. The Cheshire Cat would be Björk.
Fairly inter­est­ing choices. Thank you very much Oh Land.
Thank you. Yes. Excellent.
So there you have it, readers. Oh Land's snack pricing policy isn't to be encour­aged in these austere times but she does make rather lovely pop music.
*
It is possible to find out more about Oh Land at www.ohlandmusic.com. The single we were talking about with Beth is available to purchase on Amazon MP3 right here
.