HERE IS A CHAT WE HAD WITH MARVIN HUMES A FEW WEEKS AGO DURING THE COURSE OF WHICH HE DISCUSSES THE X FACTOR (OBVIOUSLY), JLS' FORTHCOMING 'SCENT', AND THE BEST WAY TO TURN ON A TV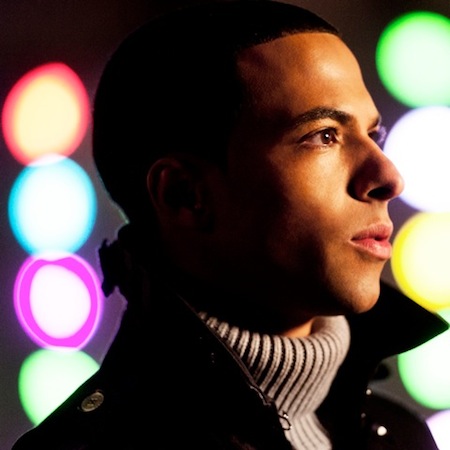 Questions: Michael Cragg
Answers: Marvin Humes (obviously)
Marvin is the tallest member of former 'vocal harmony group' and current 'above average boyband' JLS and therefore he is the most inter­est­ing. Don't believe us? Read this con­ver­sa­tion we had with him and tell us we're wrong.
Hello!
Hello. Sorry I'm calling you late. I was told about it while I was eating my breakfast, so apologies for keeping you waiting.
No worries at all Marvin. Where are you now?
At the record company.
So you've got a fun day of inter­views lined up with various members of the media?
(Laughs) Absolutely. We'll be here all day and then we've got some radio stuff this evening. It's that time of the year — we don't really see much of November or December.
Do you think popstars can take time off these days? Rihanna and Lady Gaga would probably tell you 'no'.
They set the example. If you look at Rihanna, how many singles she's had over the last few years, it's amazing. And Gaga, yeah you're right, she's exactly the same. We like the work ethic; we want to work as much as possible and do as much as possible, because you only really get one bite of the cherry and we want to make sure we make the most of that opportunity.
How many times during an interview do you think to yourself 'if I hear one more question about The X Factor I'm going to stick a pen in my own eye'?
(Laughs) It's okay because, you know what, The X Factor's on every week obviously and it's always different and there's always a new scandal so it always keeps the chat refreshing.
Well let's move on anyway. What is your least favourite JLS single?
(Laughs, doesn't answer question)
And let's be clear here, the question is not about the worst, it's about your least favourite.
Er…That's a tough one… Obviously 'Beat Again' is the one we perform the most...
So you're a bit tired of that one now?
I wouldn't say I'm tired of it. If we were allowed to pick four songs to perform then that one might not be in that four because we've performed that one the most.
How do you decide which singles make it onto the hit parade?
It's a mixture really of us four boys, man­age­ment, record company. It's kind of a joint decision and all the time we've been on the same page so it's been pretty good.
A month or so ago, the JLS 'boys' made a pretty reckless announce­ment. You stated that you would no longer be sporting the plunging scoop neck t‑shirt. Is this just because of winter or is it a permanent decision?
(Slight sigh) That was all blown out of pro­por­tion. Aston went to an event and there was a lady there from The Sun and he had a shirt on buttoned right up to the top. But yeah, that's just a winter thing.
So the deep v will be back?
Of course.
THANK GOD. What's the worse thing about being good looking?
Er… I'm assuming you're saying I am good looking.
It's pretty much a matter of public record that all four of you are good looking young men. Would people take you more seriously if you were ugly?
I'm not sure. I don't think that's the case. You tell me, I'm not sure. People def­in­itely assume stuff. They meet us and say 'oh, I didn't know you could write songs' or 'I didn't know you guys decided what you'd wear' or silly things like that. We wouldn't be where we are if we didn't have control over what we do.
I listened to your new album on the bus the other day and enjoyed it…
Lovely.
Exactly. But where would be the optimum place to get full enjoyment out of said album? The bus worked fine, but perhaps it wasn't quite the right environment.
Maybe just at home, blasting through your speakers, Saturday night just before you're going out, stick the JLS 'Jukebox' album on and I think that will get you in the party mood.
Is it just an album for 'in' 'da' 'club'?
No, no, no…Hang on, did you just say 'in da club'?
Well that's how everyone's saying it isn't it?
No, there's def­in­itely some, you know, after-club tracks on there as well, to have a little chill to.
Do you think everyone who sings about clubbing actually enjoys clubbing?
No.
Do you think you can tell when people are faking it?
I'm not sure if you can tell but I think people def­in­itely sing about stuff they don't do.
Sometimes if you're listening to the last Britney album and she's all "on the dance­floor" and "DJ turn it up" you get the sense that that's not what she actually wants to be doing, so it makes you wonder why people sing about it so much.
Yeah, well I think Britney's probably in a different place to us four but we def­in­itely still go to the clubs and have a great time.
Why aren't there more songs about having a nice meal, perhaps in a Pizza Express, and then going home to watch a DVD?
We def­in­itely have done that. On our second album we had a song called 'I Know What She Likes' and that was all about knowing exactly what your girl­friend likes, the simple things in life like having a DVD night, things like that. It's not always about the clubs. You can't always go clubbing.
Can we talk about '3D' from your new album?
Yes, absolutely.
It contains one of the most bril­liantly baffling lyrics of 2011 in the shape of "I'm going to turn you on just like a TV". That doesn't sound very sexy does it?
Okay. Well (said in a way that suggests he knows precisely how ridicu­lous it all is) you know, it's a clever play on words isn't it. It's like we're talking about 3D and all of the tech­no­logy and everything like that and (flounder­ing, wondering how to place blame elsewhere) I think it was Oritsé who actually came up with that one. It's a metaphor.
There are two ways to turn on a TV, either by pressing the button or by using the remote. So, which is it?
(Laughs) What would you prefer it to be?
Well if you leave your TV on standby you can then use the remote to turn it on but I think that's worse for the envir­on­ment. I'm no expert.
You'd prefer us to push your button?
Well yes because that way the TV is off and you're saving elec­tri­city. We're in mixed metaphor territory here aren't we.
Mixed metaphors is what everyone will be doing in 2012 and you've just started it.
Brilliant. Were there any other household imple­ments that were in the running when you were writing that?
TV worked you know. I think he probably con­sidered irons, juice makers, but none of them beat TV.
There's always talk about JLS going to America. Is that still something you want to do?
Every other territory outside of the UK is a target. We want to hit Europe, Japan, Australia, America, every­where. That's def­in­itely on our agenda next year. We've only done a drop in the ocean of promotion in America. We've got a small presence over there but we know that in order to really crack it we have to spend time over there and we don't have time right now. We don't want to lose what we have here.
British pop fans can react quite badly if it feels like they've been deserted for America.
You're abso­lutely right.
Are you excited about the tour next year?
The tour's going to be wicked. We've started putting everything together, so the setlist, all of the designs, all the special tricks are done, so we're really excited about it. Did you come to our Out of This World Tour?
No. According to YouTube there was a flying car.
Yes, but the next one is going to be even bigger and better.
What's going to fly this time?
You'll have to come and see won't you.
So it's called the Fourth Dimension tour. What is that exactly?
It's JLS in 4D.
So, that's smell?
It's a new dimension for us.
There are films you can watch in 4D that involve having to use a scratch and sniff card…
That's what their defin­i­tion of 4D is.
So your defin­i­tion is not scratch and sniff cards?
If you're close enough you could scratch us.
You wouldn't want people to sniff you though. That would be weird.
(Laughs) I don't smell bad.
When is the JLS perfume coming out?
Good question. Very very good question.
Thanks.
We're def­in­itely in talks at the moment. We've def­in­itely moved forward with the idea, but I can't tell you when it will happen but it's a very good question.
What would you want it to smell like?
My favourite smell on a woman is Chloe, which is quite floral, fresh, but romantic and sexy. So, you know, if we can try and create something that's fresh, floral, romantic and sexy then I'd be a very happy boy.
That's your advert right there.
Yes.
*
'Do You Feel What I Feel?' is out on January 1. 'Jukebox' is out right now.