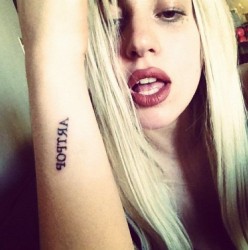 Lady Gaga's going to release a documentary at some point in the near future.
The "#LadyGagaMOVIE" was announced on Twitter (of course) and will be 'helmed' by photographer Terry Richardson.
Don't just take our word for it though.
"Merry Christmas little monsters! Terry Richardson @Terry_World is making a #LadyGagaMOVIE documenting my life, the creation of ARTPOP + you!" the 'Cake' hitmaker tweeted.
"Thank you for being so patient waiting for my new album ARTPOP I hope this gets u excited for things to come. I love you with all my heart!"
So, it's going to be a special? Like, a concert video?