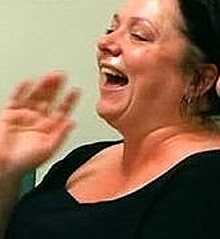 Roseann McBride was sadly over­looked in favour of a Minogue for judging duties on this year's X‑Factor but she will be back on the TV very soon with another reality TV music show. The show was arranged to search for a Spice Girls tribute band but all that has now changed. Thank Geri.
We inter­viewed here recently and here are a few pearls of wisdom we retrieved from the great dame of music.
Roseann on Kylie…
"She shagged Michael Hutchence and learned all the tricks from him."
Roseann on Leona Lewis…
"Amazing voice but that's all there is."
Roseann on Girls Aloud…
"The cooler kids in the play­ground will be into Sugababes."
Roseann on Betty Boo's numerous comebacks…
"Poor Betty."

Roseann on Roseann's next TV project…
"There's been an inter­ven­tion somewhere along the line from our Spice friends so it's now just a band of talented women over the age of 25."