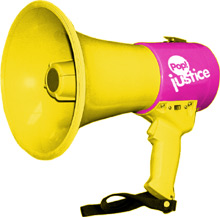 What is currently being discussed on the Popjustice forums, par­tic­u­larly in relation to a certain recently announced list of pres­ti­gi­ous music prize nominees?
Mark Ronson — 'Stop Me'
Says Poppin Fresh: "At first I hated it, then I quite liked it, and now I think I'm anti it again."
Girls Aloud — 'Something Kinda Oooh'
Declares LisaJ: "Let them win again, £20 will cover the cost of the next video."

Robbie Williams — 'She's Madonna'
Announces NathanJay: "It's quite good."
Roisin Murphy — 'Overpowered'
Cries Diamond Doggie Bag: "The one song on the list I can listen to over and over again without getting sick of it."
Sophie Ellis-Bextor — 'Catch You'
Mumbles Aethyrsprite: "My second choice."
Jamelia — 'Beware Of The Dog'
Booms Swinginglondontown: "I am on Team Jamelia this year."
Siobhan Donaghy — 'Don't Give It Up'
Whsipers Cathal: "This is the best so it gets my vote. Siobhan could probably do with 20 quid."
Kate Nash — 'Foundations'
Hollers Ordon: "It's all about 'Foundations' last 30 seconds or so and that final gut-grabbing chord. Oh and the line about lemons."
Calvin Harris — 'Acceptable In The 80s'
Burps Mirror Man: "If 'Which entry filled you with complete joy when first heard?' is part of the judging criteria then this wins it for me."
Bodyrox feat. Luciana — 'Yeah Yeah'
Trills Thomasrwhite: "My dad is Luciana's mum's dentist."
Amy Winehouse — 'Rehab'
Mutters Undisco_Me: "If there is a classic in amongst them, then it is this."

Booty Luv — 'Shine'
Squeaks Tribal Spaceman: "Now if only they'd do a tour as the Big Booty Brovaz"
"My dad is Luciana's mum's dentist'? Amazing. Do any other Popjustice readers have parents who perform a service for Luciana, or any other Twenty Quid Music Prize nominees? [email protected] with the details, please…