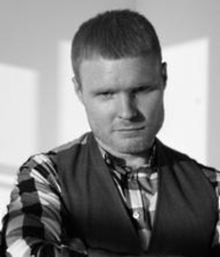 This handsome fella goes by the name of Andrew Butler. But he knows Andrew Butler is a boring name for A Pop Thing so he is calling himself…


HERCULES & LOVE AFFAIR
…which, unlike Andrew Butler, is a brilliant name for A Pop Thing.
'Blind' — which is today's Song Of The Day — features Antony '& The Johnsons' Hegarty on vocals and is the first single. In Popjustice terms it's like a big pop trifle with 'Comfortably Numb' as the whipped cream, MIA's 'Jimmy' occupying the jelly layer, a bit of 'I Feel Love' custard with some liberally sprinkled hundreds and thousands made of scratched-to-fuck charity shop Boney M hits LP. The six-minute album version is just one radio edit away from being 100% brilliant and we've been listening to it loads over the last couple of weeks.
Here is a clip of that song.
[audio:Blind.mp3]

Other tracks include 'Hercules Theme' (which is DOOM-LADEN and AMAZING), 'Raise Me Up' (which is basically 'Blind' again but not as good but still well worth a listen or two), and a slinky little number called 'Time Will' which is based around a bit of Frankie Knuckles' 'Your Love' (ie, let's be honest, The Source feat Candi Staton's 'You Got The Love') and is great. Hercules & Love Affair are signed to DFA (woo — 'trendy') and are being launched next Spring.
We have been sent some enigmatic press blurb which says the project "is brought to you by general wizardry and wonder and the beauty of good deeds, Antony, Chicago, Detroit, Liz Fraser, Moondog, Ultramarine, The Muppets, Justin Broadrick, DJ International Records, Arthur Russell, Gino Soccio, Kate Bush, Magic Carpet, Brian Eno, Judee Sill, Derrick Carter and Soundpatrol, Chris Brick and Family Of God, Daniel Wang, Kathy Anderson, Donny B Go Swami, Donks, Foo Foo amongst others". Your guess is as good as ours as to what the fuck that means but the album's a corker so it's job done really.
So that is a thing about Hercules & Love Affair. You can probably file them under 'ones to watch' if that is your sort of thing.
FREE DOWNLOAD AHOY!
DFA (ie EMI) are letting you download a song called 'Hercules Theme' — the album's opener — for zero pence. You have to enter your or someone else's details to get it but that's not too much hassle, is it? Click here for the Hercules & Love Affair download.
PLUS!

This is Hercules & Love Affair's MySpace, if you're interested.
AND…

This doc­u­ment­ary thing about 'Your Love' puts us in the mood for going to New York and having a little dance. 23 years ago. :(