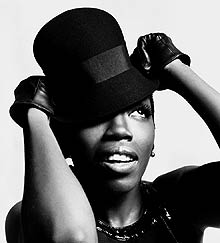 A few years ago we were all being told that a woman called Estelle was going to be the biggest and best popstar in the country. She came along, popped into the Top 20 on two occasions before slipping off the radar to col­lab­or­ate with the likes of Faithless on the least suc­cess­ful single of their career.
But Estelle is back (back! BACK!) and her col­lab­or­at­ors are quite 'inter­na­tional' this time round – she's roped in John Legend, Kanye West, will.i.am and Mark Ronson to work on her Big New American album.
Because of these big important people working on her new material, we are all once again being told that Estelle is going to be a very famous popstar. It is like 2004 all over again.
Anyway we spoke to Estelle recently about moving from Shepherds Bush to New York, about the shopping situation in America, about late night fried chicken res­taur­ants and about the new album she was on the phone to promote.


Read the Estelle interview here.
While we are at it, we should possibly mention that Estelle's single 'Just A Touch (Wait A Minute)' is released this very week. The video for it is here.
httpv://www.youtube.com/watch?v=m0OTHocDTYs

Very good. Very 'American'.