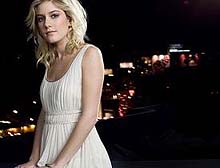 Good morning campers. For those among you who are not fans of horrific reality tele­vi­sion shows 'Laguna Beach' and 'The Hills', yesterday's mention of Heidi Montag may have left you asking yourselves this important pop question:
Who the hell is Heidi Montag and why is she shit?
Well, both shows feature the excep­tion­ally rich teenage offspring of wealthy Orange County families and the struggles they face in their teenage lives – such as whether to drop out of fashion college or work as an event planner. Difficult decisions we have all made.
Heidi was the girl­friend of one of the show's stars, but since they split she has launched herself as a popstar, although in this instance fashion college or event man­age­ment may indeed have been t better decision.
For anyone wondering why she has not made a video for her in-fact-amazing Yazoo-sampling 'Body Language' track (the one on YouTube is a fan effort) because that track, according to Heidi, that was "just a bit of fun" and was never intented to be her first single — unlike 'Higher', which unfor­tu­nately nobody is ever likely to describe as 'fun' or indeed 'good'. Here is the 'Higher' (NOT 'BODY LANGUAGE')
httpv://www.youtube.com/watch?v=YholvmPWBA0
You might think, given Heidi's LA so-called lifestyle, that she might have come up
with something a little more flashy. If she peeled off her bikini
midway through, for example, there would be no raised eyebrows. Not that anyone in LA can raise their eyebrows anyway, but you get the point.
It makes you wonder when Paris Hilton is going to finish that album she was meant to be recording with Sash!. :(