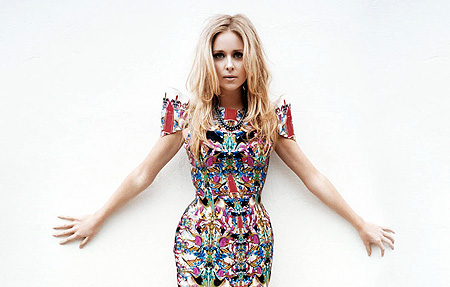 RCA have got some good things going on at the moment but letting Diana Vickers go has to rank as one of the most stupid decisions of the modern pop era.
We all know the story so far*, but while most acts — espe­cially most eX-Factor acts — are better off dropped after their first album, we always hoped there would and thought there should be more from Diana.
Ignore the noisy but misjudged claw/Cranberries sniping of the web's more tedious roflmer­chants and it's a lot easier to see the inter­est­ing and fizzy pop per­son­al­ity at the heart of the whole Vicko 'thing', com­ple­men­ted by talents rare in this sort of popstar. Just as import­antly, it feels as if she is genuinely liked by a lot of people and connects best when she has the right songs.
She's been working on some new tracks and from the three we've heard ('Cinderella', 'Music To Make The Boys Cry' and 'Boy In Paris') 'right songs' feel like an under­state­ment. The standard of the song­writ­ing here is EXTREMELY high. The songs
we've got are the result of sessions with Norway's
Donkey Boy (the band behind one of our favourite albums of 2009, as well as the
actually-very-good Joe McElderry single 'Ambitions'), Miranda Cooper
(who was largely respons­ible for half your favourite songs of the last
pop decade), Jenny Karr
and David
Gamson.
There's no panicked stylistic u‑turn from songs like 'Once' — the music feels very much like an extension of the good bits from Diana's existing catalogue — but the Diana V2.0ckers (NEEDS WORK — ED) sound is a lightly elec­tronic, occa­sion­ally new wave-inspired mix, with sparse pro­duc­tion that (par­tic­u­larly on 'Cinderella') sits itself midway
between Jellybean-era Madonna and Sky Ferreira's 'One'. It feels like she's totally relaxed into these songs in the same way one might con­fid­ently fall backwards into a crashmat.
Tunes in brief:
» 'Music To Make The Boys Cry' starts off with the claim "sometimes you feel cursed and the music will only make it worse". That ladies and gentlemen is a very good pop lyric. The chorus explains how "some girls wanna dance in the spotlight, some girls just kiss and tell,
some girls want a movie moment waiting by the wishing well; don't need to make you love me, I've got myself and I wanna make music
to make the boys cry".
» 'Cinderella' is a shiny synthy disco pop tune.
» 'Boy In Paris' is a pulsing modern pop almost-mas­ter­piece about "dancing in the dark with the boy I met in Paris sitting in the front
row of my radio show".
The tunes — the melodies — are huge. More huge on 'Music…' and 'Boy In Paris' than 'Cinderella', but 'Cinderella' is still rather jolly.
Those of you who follow us on Twitter will already know that we've been listening to these songs loads over the last week or so and we're really excited that Diana has turned this corner so elegantly. The bad news is that this stuff isn't due for release until next year. The good news, though, is that even if you're not fussed about the Olympics you still have a reason to be excited about 2012.
Hurrah.
*The story so far in case you were wondering:
1. Diana does alright on 2008's X Factor.
2. Diana signs not with Syco but with RCA, starts recording with
array of bizarre but inter­est­ing people like Lightspeed Champion.
3. General public very gra­ciously agrees to forget that there was
some funny business involving Eoghan Quigg and allows Diana to be
posi­tioned as a sort of
Asda-friendly Ellie Goulding.
4. Diana releases 'Once', the song Cathy Dennis had been thinking
of using to launch her Sexcassettes solo project.
5. 'Once' goes to Number One.
6. Diana's album also goes to Number One.
7. Diana's second single goes to, er, Nunber 36, despite being brilliant
and having an amazing remix.
Plan continues to go slightly off the rails when Ellie Goulding herself becomes the
Asda-friendly Ellie Goulding.
8. Plans for the de rigueur big Christmas album reissue go a bit
wonky when ace-but-bonkers-and-takes-a-few-listens new single 'My Wicked
Heart' is debuted on The
X Factor 2010,
goes to Number 13 then disappears.
9. Diana 'leaves' RCA a‑boo-hoo-hoo.
10. Now here we are.