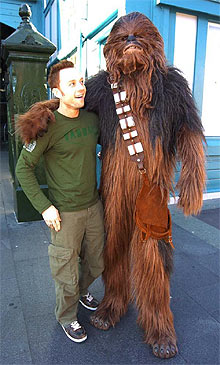 Hang out the bunting: Darren Hayes (pictured, right, with Cat Deeley) is back.
Despite an up and down rela­tion­ship with the Top 40 Darren is
still allowed to knock out a brilliant pop album every
few years or so and his new one, 'This Delicate Thing We've Made', is shaping up to be his best to date. Considering we played his last one until the MP3s literally wore out that is Praise Indeed.

Since that last album Darren's left his record label, become an Official Gaylord, had a bit of a think about how to do this whole 'being a popstar' thing, decided to go down the DIY route and thrown all this and more into this new album, which is out in August. August is prac­tic­ally Christmas, so consider this an
early heads-up on what might end up being one of your favourite long players of the year.

You can hear the first single, 'On The Verge Of Something Wonderful', as today's Song Of The Day. It is a bit like The Killers and a lot like Darren Hayes and we've been 'spinning it' quite fre­quently at PJHQ.

As well as all that we would like you to listen to another new song from the album. While the single is a
straight­for­ward uplifting elec­tro­pop romp 'Me, Myself
& I' is more of a quirky, Prince-esque 80s influ­enced pop track. Listen to 'Me Myself & (i)' by clicking below…

[audio:darrenmymyselfclip.mp3]

There is another song on the album which sounds like 'I Feel Love' but we are not allowed to let you listen to that one yet.

And if you didn't like any of that then perhaps you will prefer a picture of Darren's dog Wally instead.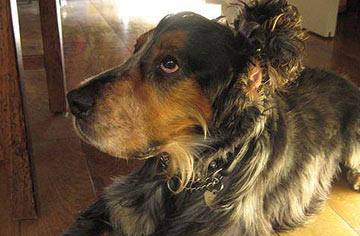 Tasty.