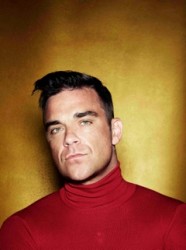 Robbie Williams announced a European tour for next summer at this press conference thing this afternoon.
Olly Murs will be the support act for the entire thing, if that makes a difference at all.
He'll play Manchester, Glasgow and London before going all over the rest of Europe. It's his first tour on this sort of scale since 2006, but you knew that already.
"It's time to put my foot down and go 'this is what I do'," Robbie said about it all. "I think it's legacy time for me. I'm nearly 40 and I don't know how many times around I'll get given this opportunity. I want to go and seal my place in pop history."
So there you go.
Dates:
19 Jun 2013 / Etihad Stadium, Manchester / UK
21 Jun 2013 / Etihad Stadium, Manchester / UK
25 Jun 2013 / Hampden Park, Glasgow / UK
29 Jun 2013 / Wembley Stadium, London / UK
30 Jun 2013 / Wembley Stadium, London / UK
10 Jul 2013 / Veltins-Arena, Gelsenkirchen / DE
13 Jul 2013 / Amsterdam Arena, Amsterdam / NL
17 Jul 2013 / Krieau, Vienna / AT
10 Jul 2013 / Ullevi, Gothenburg / SE
22 Jul 2013 / Parken, Copenhagen / DK
17 Jul 2013 / AWD-Arena, Hannover / DE
31 Jul 2013 / Stadio San Siro, Milan / IT
03 Aug 2013 / Koning Boudewijnstadion, Brussels / BE
07 Aug 2013 / Olympiastadion, Munich / DE
11 Aug 2013 / Mercedes-Benz Arena, Stuttgart / DE
16 Aug 2013 / Stadion Letzigrund, Zurich / CH
20 Aug 2013 / Tallinn Song Festival Grounds, Tallinn / EE