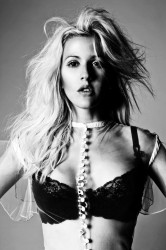 The song titles on Ellie Goulding's second album 'Halcyon' have appeared for us to have a look at.
Ellie uploaded a picture of the hand-written track­list­ing onto the web and we've kindly typed them out for you.
Don't Say a Word
My Blood
Anything Could Happen
Only You
Halcyon
Figure 8
Joy
Hanging On
Explosions
I Know You Care
Atlantis
Dead in the Water
So now you know.
'Halcyon' is out October 8, and is very good.