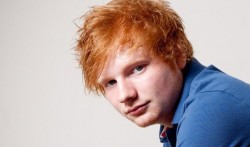 This seems pretty unlikely to be honest but apparently Ed Sheeran has announced the release date of his new album.
Noise11.com claims that Sheero confirmed the release date as February 17, 2014 in an interview with the Australian music website.
Ed also said: "My second album has taken full shape recently. I don't know if there will be any collaborations on it yet. I have a name for it but I can't tell you the name just yet but it doesn't start with a letter."
'Interesting'.
Ed is currently touring in Australia but won't be performing any new songs at his 'gigs'.
"I think there should be some surprise," he explained. "I don't want everyone knowing what the record is before they get it. I want them to listen to it first."