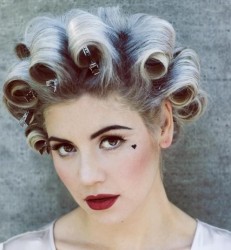 A new (old) Marina & the Diamonds 'EP' has leaked on to the internet.
Following the leak of the 17th old Lana Del Rey album a few days ago, an unof­fi­cial Marina EP entitled 'Give Me The Money' has also mys­ter­i­ously 'surfaced' online.
Most of the EP's songs sound like they predate Marina's forays into Dr Lukedom — ie they're a load of quite ropey, low-quality demos from 2007 — so don't get too excited.
The EP — which is not really an EP if we're honest because fucking hell it's 12 tracks long — also features quite Marina-sounding song titles as 'Supermodel's Legs', 'Perfect-Oh' and 'Hot, Cross Bun' (blimey), as well as a cover of Katy B and Magnetic Man's 'Perfect Stranger'.
We're not going to post a link to the leaks though, so apols.