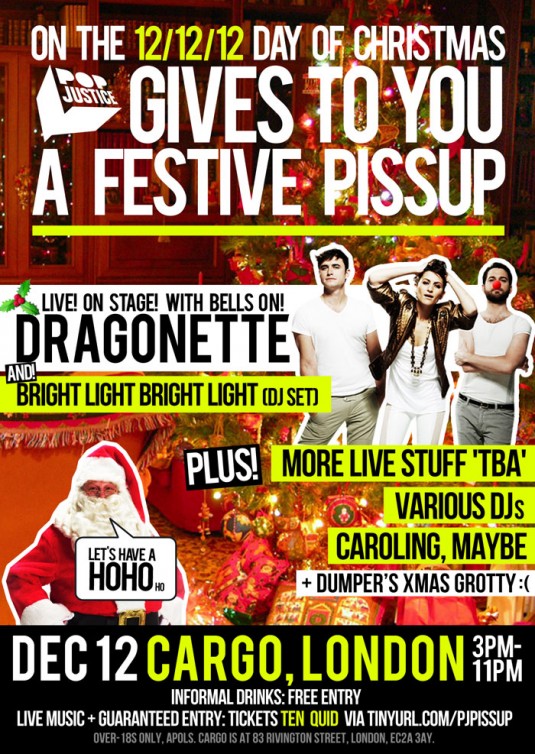 Tweet

» Tickets:  Live Nation / Ticketmaster
» Facebook event page
We're having a big festive pissup in London on December 12 and you, lady or gentleman of the internet, are invited.
Dragonette are playing live. Bright Light Bright Light is DJing.
Some other people will be involved too but to be honest that hasn't been sorted out yet. Just assume there will be incredible music from 3pm onwards and you won't be disappointed.
THERE WILL BE MINCE PIES.
Here's how it works: it's free entry from 3pm onwards so you can wander in and out if you fancy, have a chat and be generally informal and so on, BUT you won't get to see the live bands unless you get a ticket. Tickets are £10 from here and they guarantee you entry. (It says 7pm start time on the ticket websites but we'll be knocking back the eggnog from 3pm so do join us.)
(For those of you familiar with the layout of Cargo, the ticket means you'll be able to get into the arch where the stage is – the drinks bit will continue
in the bar area while bands are on for cheapskates, The Disorganised and those who for
whatever reason don't have tickets.)
Popjustice work experience robot Dumper will also be hosting
what he bills as a 'Christmas Grotty'.
(We're not exactly sure what he has in mind but he's got until
December 12 to sort it out and we have complete faith in him.)
So to recap:
» Amazing music both live on stage and coming from a DJ booth.
» Booze, if boozing is your thing.
» General festive nonsense.
DID WE MENTION MINCE PIES?
» Tickets links again:  Live Nation / Ticketmaster
» That Facebook event page again
Oh and here's that Tweet button again in case you want it.