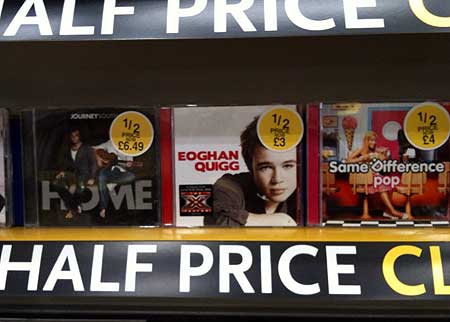 This photo just in from Popjustice reader John Marrs. "Taken on a recent visit to WH Smith in Northampton," he notes. "Their pricing seems to have decided just who's worth more than who."
While there may be life in Same Difference yet this pho­to­graph inspired us to examine the Eoghan Quigg album once again. The Quigg col­lec­tion is still on Spotify (although we've just got a regular account, we believe this album's absence is one benefit of a Premium sub­scrip­tion) and it's every bit as bad as we remember, if not slightly worse.
If you're still feeling bad about what you got up to over the weekend, and from what we hear one or two of you should be thor­oughly ashamed of yourselves — you may care to consider a quick blast of 'Eoghan Quigg' (an album so good they named it… Well, not even once really) as a par­tic­u­larly harsh dose of pop-based self flagellation.