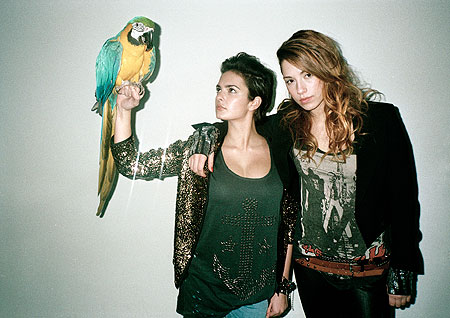 Exciting pop is all about having three big things that allow people to precisely tri­an­gu­late your amaz­ing­ness. Here are the three big things of new girl duo Oh My!:

1. They have been taken under the wing of Example, who's been working with them on their lyrics and tunes and 'beats'. It's not quite right to say they're Example's girlgroup, but he is certainly a sig­ni­fic­ant part of the whole thing.

2. They've signed to 679 Recordings, home of Marina and Little Boots and one or two other pop artists who don't neces­sar­ily upset NME as much as pop at the Joe McElderry end of the spectrum.

3. They hold parrots.

Example told us a bit about Oh My! last year. He was quite excited. "Two girls," he said. "Late teens. Both from up north. Gorgeous girl next door looks. Will be less Saturdays and more Bananarama. Shooting first promo vid in a few weeks. No date on single or album yet but having a blast in the studio with them. Oh and one of them can do a backflip — like Mel C not like Aston."

Well, several months later the band is ready to go and to accompany some promo shots featuring A PARROT here's the pro­mo­tional blurb that 679 have emailed over, make of which what you will:

"Naming yourself after a lyric from one of your favourite songs shows
passion. It's a very public tip of the cap to one of your musical
influ­ences and a good indicator of what's to come.
Taken from the Tweet and Missy Elliot anthem 'Oops, ' Oh My! are Alex
and Jade, two friends from school who have planted their brand of modern
pop on 679 Artists – the home of Plan B, Marina & The Diamonds,
Little Boots and The Streets.
Oh My! have already caught the attention of the ines­cap­able
elec­tronic-rave-monster Example, after they bumped into him at their
recording studio. He was so charmed that insisted on writing a track for
Alex and Jade, which has since turned into many tracks.
Coming soon on 679…"

So the first piece of music from the girls is 'Run This Town', which is today's PJ Song Of The Day.

Here's what the band look like moving around with 'Run This Town' on in the back­ground. A video, if you will.

[youtube]8v3-KfTKRKk[/youtube](And here is a full length free download of 'Run This Town' in case you fancy it.)

There was every danger that this could have become one of those things where a not-really-pop act claims to be a pop act but actually isn't and just ends up col­lapsing under the weight of its own cred­ib­il­ity. But it is not that at all. We're def­in­itely in the pre-SAW Bananarama, Shampoo sort of area here.

OBVIOUS STATEMENT ALERT:
The pre-SAW Bananarama, Shampoo sort of area is a good sort of area to be in.

As is the way with these things (start it all off with a free download, move onto a proper single later on blah blah blah) 'Run This Town' is a taste rather than a complete reveal of what's to come. The two other Oh My! songs we've heard — 'Dirty Dancer' and 'Sleeping With The Lights On' — have just as much per­son­al­ity but feel like they've got bigger hooks and better pop moments. The chugging, singalong anthem 'Dirty Dancer' features the line "I want a Patrick Swayze dirty dancer, take my hand don't leave me in
the corner, baby, cos I wanna dance like crazy" (amazing) and 'Sleeping With The Lights On' — nothing like the similarly-titled Busted classic, sadly — claims "I need restrain­ing orders" and warns an ex that he should sleep with the "la la la la l‑l-lights on" hook. Which sounds a bit Broken Britain written down but in the medium of a popular song — for that is the 'milieu' in which Oh My! have situated them­selves — it is basically fantastic.

Let's have another look at that parrot.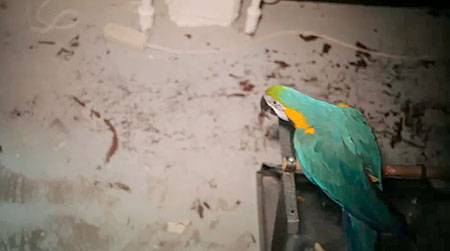 Key points:
» Amazing.
» Amazing.
» Amazing.
Further reading:
» http://ohmyofficial.com
» http://twitter.com/ohmyofficial

» http://www.facebook.com/ohmyofficial