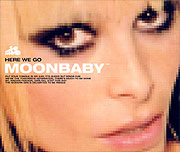 • In a textbook case of pop injustice, this missed the Top 75.

• In spite of the fact that it contained LOADS of surf guitar, sounded a bit like Girls Aloud's 'No Good Advice', and came with the genius lyric "I don't do sex but I do do second base".

• The sleeve photo was, it says here (on the sleeve), taken by Ellen Von Unworth. Ooh!

• Later on, Moonbaby dramatically revealed that she wasn't called Moonbaby at all, and that she was in fact called Miranda Cooper. Which is rather less cosmic, but probably more practical when you're on the phone to the bank or whatever.

• Miranda Cooper is a Xenomania person. In the Popjustice £20 Music Prize Programme, Cheryl from Girls Aloud calls for Miranda's face to be put on the £20 note.

• In The Olden Days (ie 2000 again), we were sent a promo sampler of Moonbaby songs. In the intervening years the sampler appears to have gone missing from the Popjustice Unreleased Album Sampler Archive, which is something of a pisser given that it no doubt holds ethereal and mystical clues regarding Exciting Secrets Of Xenomania.

• The promo sleeve also reveals that the online PR was handled by a company called Way To Blue. In the summer of 2000, while working in online so-called 'media', we made an amusing reply/forward email faux pas and informed Way To Blue that they were 'amateurs'. To be fair we weren't far off the mark, considering that Way To Blue never contacted us about Moonbaby, and that it was someone working on the offline campaign who actually bothered to make the call.

• And there's more!