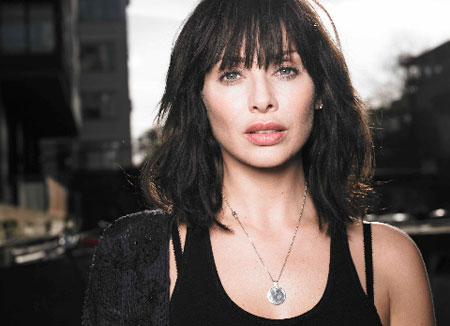 The new Natalie Imbruglia single is REALLY good. Not really good like the last one was 'really' (ie not very) good, but properly good. Like a slightly elec­tronic Kate Bush kind of affair. We have been listening to it quite a lot.
We would go on at some length about it but we're quite busy this afternoon and Malik Meer is about to phone us about some sort of 'missed deadline', so until we get a chance to discuss Natalie's single properly here is the full blahb­lahb­lah from the press release:
Natalie Imbruglia is set to return to the charts with her highly anti­cip­ated new studio album 'Come To Life' released on Island Records on October 5. It will be preceded by the single 'Want' on September 28.
The album was produced by Ben Hillier (Blur, Elbow, Depeche Mode), and features three writing col­lab­or­a­tions with Coldplay including the first single 'Want', which Natalie co-wrote with Chris Martin. One of the tracks, "Lukas", is produced by Brian Eno.
Four years after her last studio album "Counting Down The Days" debuted at No 1 in the UK, Natalie's total album sales now amount to 8 million worldwide, whilst her single sales total over 2 million.
"Come To Life", though, charts an entirely new path for this vastly under-rated artist. The opening salvo of "My God" and two Coldplay col­lab­or­a­tions, "Lukas" and "Fun" imme­di­ately establish the breadth of this remark­able record which combine dark, driving beats and gor­geously wistful ballads into a totally cohesive whole.
The full track­list­ing for the album is:
My God
Lukas
Fun
Twenty
Scars
Want
WYUT
Cameo
All The Roses
Wild About It

Natalie will be pre­view­ing material from her new album at a show at the Luminaire in London on August 12. The show sold out the day it was mentioned on the Luminaire website, before it had been offi­cially announced.
Single: Want – 28th September
Album: Come To Life – 5th October

www.natalieimbruglia.com
For further inform­a­tion: BLAH BLAH BLAH
Amazing.