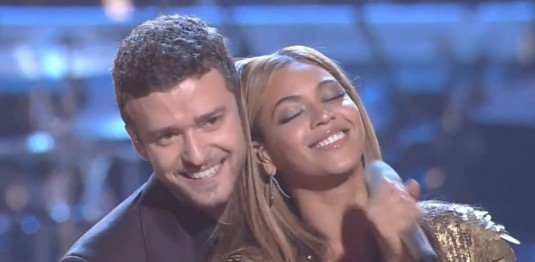 It's been sort of confirmed that quite good popstar Justin Timberlake will join Beyoncé on the list of performers at this year's Brit Awards.
Now, I know what you're thinking. Surely fellow performers Ben Howard and Emeli Sandé have enough collective clout for this to not even be news. But frankly I'm pretty excited about it all.
Given the fact that both of them enjoy going 'the extra mile' when it comes to flogging songs at industry piss-ups, I decided to do a list of six of their best award show performances. Amazing.
Anyway, here they are:
Beyoncé: 'Run The World (Girls)', Billboard awards, 2011
[youtube]oNg9mTiFDq8[/youtube]
In case Beyoncé's innate amazingness wasn't already abundantly clear, her frankly ridiculous performance at 2011's Billboard awards features a prelude video with testimonies from the likes of Michelle Obama, Barbra Streisand and Lady Gaga, before the whole thing kicks off properly with Beyoncé essentially taking part in her own video game.
As a virtual army of independent women stomps around behind her, 'Bey' grows wings, plays some imaginary drums, kicks the world around a bit and shuffles her shoulders so vigiriously it would give a chiropractor nightmares. After five minutes of all that, the screen disappears revealing about a hundred backing dancers, flags with B on them and a deluge of fireworks.
It is, frankly, a lesson to everyone else (Rihanna I'm looking at you specifically) in how to perform on a stage like your life depends on it.
Lighting: 8/10 – it's all very bright.
Audience participation: There's an amazing bit around the 6:15 mark when she notices Glee fool Matthew Morrison in the audience and gets 'all up in his grill' to his general bemusement.
Props: Flags, virtual spears, two (TWO) microphones.
Best bit: 6:30. Having scared Matthew Morrison, she then goes for a bit of a walk through the middle of the crowd (Ne-Yo looks like he's having a nice time), before pausing on the steps to the stage, turning back and spitting: "Strong enough to bear the children, and get back to business." Amazing.
Beyoncé: 'Ring The Alarm', MTV VMAs, 2006
[youtube]1bJ_nc-x1bo[/youtube]
Channelling Jacksons Michael and Janet, Beyoncé launches into this performance of oft-forgotten 'B'Day' single 'Ring The Alarm' by descending from the ceiling on a rope as gigantic search lights scour the audience.
Basically, Beyoncé (or cellmate 9481) – one of earth's most famous people – has escaped prison and has somehow wound up in New York wearing an oversized beige Mac. After about two minutes the police catch up with her and make her take a seat to perform the second verse. They don't look happy. Brilliantly she then escapes again with the help of some of her inmates, before performing a ridiculous 'Rhythm Nation'-esque dance routine that ends with her going frankly mental on top of a raised platform.
It encapsulates the entire 'B'Day' campaign in all its unhinged glory perfectly.
Lighting: 9/10. It's like being trapped inside a giant flashing police light.
Audience participation: You wouldn't really know they were there, but Beyoncé does throw money at them at one point.
Props: Prison cells containing dancers, real money, a chair, truncheons.
Best bit: 3:27. During the dance break Beyoncé and her inmates pretend they're cars with steering wheels and gear sticks and everything. With each shift of the gear stick they sink further down until they're basically doing a crab. Amazing.
Beyoncé: 'If I Were A Boy', Grammys, 2010
[youtube]UqzKEMqKwf0[/youtube]
Beyoncé's love affair with men in uniform and mingling with the crowds continued at the 2010 Grammys, as our leather-clad heroine opens the performance by marching down the central gangway with an army of riot police close at hand.
Brilliantly, rather than do some ad-libbing and improvising at the end of the performance like most normal performing humans, Beyoncé does some at the beginning, rattling through a jazzy reworking of 'If I Were A Boy' that involves a lot of wind machine action and some stuff about getting married ("I would walk you down the aisle"), before stopping, everyone going mental and then the actual song kicking in as if nothing happened.
It's all very intense and Beyoncé does her best growly face throughout, especially after some vigorous head swinging leads to problems with her weave around the 2:40 mark. Midway through, the song briefly detours via Alanis Morissette's 'You Oughta Know' and some terrifying headbanging, before returning back to relative calm.
Following the intensity of it all it's almost perfect the way she then sweetly says "thank you so much" and just skips off stage like she hasn't just reduced everyone to tears.
Lighting: 8/10. Some nice back spotlighting during the marching 'scenes' and when the 'You Oughta Know' interlude happens everything goes blood red to signify anger.
Props: Helmets, bullet proof vests, unruly weave, bad boyfriend character.
Audience participation: 2:58. Beyoncé notices a young man in the front row she quite likes, and gently caresses his face before, miraculously, she lifts him out of the crowd with just the power of touch before nonchalantly pushing him back in the crowd.
Best bit: 4:30, when she runs back from the second stage to the main stage she zooms past a corridor of police officers who each salute her one by one. Quiet right too.
*NSYNC: 'Pop', MTV VMAs, 2001
[youtube]iQ5cZN7cgxM[/youtube]
There was a sense of inevitability about *NSYNC's impending 'hiatus' on their third album 'Celebrity', an album that included a Justin Timberlake solo single in all but name in the shape of 'Gone'.
But one thing American boybands don't ever do is throw in half-arsed performances, even if your only source of income is about to be cruelly snatched away, and this frankly ridiculous performance of 'Pop' is proof of that.
Opening in black and white with Justin Timberlake playing a bored office worker (complete with "sexetary"), the colour is literally brought back into people's lives by the magic of pop music as Justin strips away his grey suit to reveal a garish, graffiti-stained vest and jeans combo. From there a Roy Lichtenstein nightmare of a set is unveiled as the other members of the band who aren't Justin Timberlake emerge from various parts of the stage (Lance and Joey have to ride in slowly on a motorbike and sidecar).
It's a relentless, brilliantly garish performance that takes in a troupe of Nicki-Minaj-before-Nicki-Minaj-even-existed backing dancers, a frantic dance breakdown and, the icing on the pop cake, a 'performance' by the actual Michael Jackson who emerges from a giant Etch-A-Sketch.
I don't really go in for visual metaphors, but you could sort of see some kind of passing on of the pop baton if you looked hard enough.
Lighting: 9/10. Neon lights everywhere, epilepsy-inducing flash lights during the breakdown bit and Michael Jackson arrives in swathes of smoke and a back light that could pierce your retina from five miles away.
Props: Desk, computer, paper, "sexetary", bottle of pop, motorbike and sidecar, popcorn, lipstick, Etch-A-Sketch, stairs, Joey Fatone.
Audience participation: At one point Chris kicks a bit of giant popcorn into the crowd and almost hits a woman in the face.
Best bit: 4:00 – the moment you realise the actual real Michael Jackson is going to walk out of a giant Etch-A-Sketch after his silhouette appears – is really quite something.
Justin Timberlake: 'Like I Love You', MTV VMAs, 2002
[youtube]7c4QLzEw0X4[/youtube]
A year after the 'Pop' performance Justin Timberlake was back at the VMAs, 'sans' the rest of them.
Perhaps that little dance with Michael Jackson helped, as Justin emerges from a giant stereo (amazing) dressed like an updated version of the 'One More Chance' hitmaker complete with fedora. While 'Like I Love You' was inexplicably not a huge hit in America (literally, WFT), it was this performance of the "drums" banger  that made a lot of music snobs go 'oh, he's actually quite talented and not just a former boyband member who used to have a perm'.
As with the 'Pop' performance there's a reliance on massive staging at the beginning (did I mention the giant stereo?), but this time the focus is shifted onto Justin as he effortlessly glides around the stage seemingly wearing leather tracksuit bottoms (style was still an issue in the 'Justified' era).
As with nearly all amazing award show performances there's a breakdown (signalled by Justin saying "break it down"), which then leads to him pretending to be a robot and doing that dance from the video where it looks like he's throwing a frisbee underarm. If that weren't enough he then waltzes off stage through the tape deck which then closes behind meaning he's not even onstage when the rapturous applause takes place.
Lighting: 8/10. Lots of metallic blues and whites to accentuate the stereo stage thing. It changes to red and orange for the "I just wanna love you baby" bits signalling that Justin is ready for some sexual activity.
Props: Massive stereo, weird shaped mic stand, hat, fingerless gloves, Clipse.
Audience participation: Some of them are in a 'pit' thing in front of Justin which means there are a lot of hands trying to grab him but he's too focused on his 'craft' to notice.
Best bit: 0:20, when Justin first emerges from the stereo stage and everyone just goes 'oh hello, what do we have here then?'.
Justin Timberlake: Medley, Brit Awards, 2003
[youtube]2d_Pc3zKREE[/youtube]
Just as important in Justin's move from *NSYNC frontman to bona fide solo artiste was the effortless shift from untouchable megastar to tabloid-ready sex object that happened immediately after this Brits medley.
While we were all no doubt very excited about Ms Dynamite and Coldplay both 'scooping' two awards on the night, it was a picture of Justin groping Kylie's bottom (which he does during a cover of Blondie's 'Rapture') that made the newspaper front pages the next day and suddenly you couldn't move for stories about Justin's bedroom exploits (let's not forget, "Trousersnake" was born around this time).
But there's more to the performance than some light fondling. For one, it's worth noting how much he genuinely seems to love being a popstar and having a bit of a dance on a stage (there's a cheeky grin around the 2:24 mark). That sounds obvious – who wouldn't have a grin on their face – but there's a lot to be said about performers who seem to be taking it all in their stride and having fun.
He also manages to make beatboxing – a 'skill' that in most people's hands (mouths?) can come across as frankly embarrassing – seem like the coolest thing imaginable, and there's a fairly seamless glide from 'Cry Me A River' into 'Like I Love You' which just about makes up for the fact that he's come dressed as a painter and decorator.
The Blondie cover is a slightly odd choice and Justin's falsetto lets him down slightly, but it's a performance that basically made everyone realise how nice it would be to have sex with him. Sometimes that's what being a popstar is all about.
Lighting: 6/10. Blue for the icy revenge of 'Cry Me A River' and red for the passion of 'Like I Love You'. A pretty standard affair.
Props: A long staircase, some general 'decoration' which weirdly seems to resemble something from the Alien films, ticker tape, studded earring.
Audience participation: There isn't any to be honest, although at the end there are a few shots of people going fucking mental.
Best bit: 1:21 – after the beatboxing Justin goes "4,3,2,1" and that plinky plonky synth riff from 'Like I Love You' starts up and your stomach does a weird flip for a second.