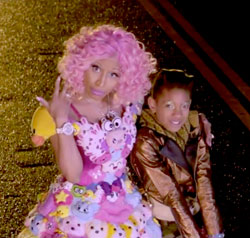 The Willow Smith and Nicki Minaj video for 'Fireball' that has been knocking about in rubbish quality for the past couple of weeks can now be watched properly. (YouTube) The intro is a bit more exciting than the rest of it unfor­tu­nately, although Nicki does wear a teddy bear head-type dress and fluffy rainbow boots so all is not lost.

Little Mix's 'Cannonball' got to Number One with sales of over 210,000 (The Official Charts) but it looks more likely that Gareth Malone and the Military Wives will be this year's thrilling Christmas Number One.

Cher Lloyd has signed a US record deal with LA Reid's Epic Records. (Capital FM) Reid was of course the man who dropped Lady Gaga, but who also signed just about every other suc­cess­ful popstar in recent memory. A swing with a telephone on its head; some round­abouts with platinum albums.

'Gangsta?' hitmaker Tinchy Stryder will be following in the footsteps of Dane Bowers, Sisqo and Jedward by taking part in the next series of Celebrity Big Brother. (The Sun)

In news that in no way suggests Rihanna should maybe take a break, she had to leave the stage in Portugal during a per­form­ance of 'What's My Name?' in order to throw up. (Ace Showbiz) But she made it back in time for 'Rudeboy', so that's all okay.

In popstar engage­ment news even more exciting than Britney's, Una from The Saturdays will be tying the knot, having announ­cing her engage­ment during what the Mirror describe as a 'packed out' gig on Friday night. (Daily Mirror)

Taylor Swift, Justin Bieber and Paula Abdul have been named among the Best Mannered People of 2011. (Contactmusic) Kate Middleton won the award, pre­sum­ably for taking over the dance­floor in a polite fashion.

And finally, in 'oh look this will have to do' news, Katy Perry has 'enlisted' friend-of-Bruno-Mars-B.o.B for a remix of 'The One That Got Away', in an attempt to break the record number of Hot 100 Number One singles from one album. (MTV) Fantastic work everyone.
THAT WAS some of THE NEWS.