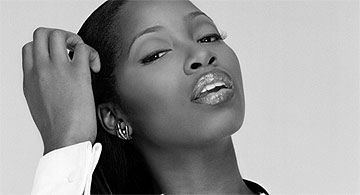 1. It is called 'Something About You' and it was written by Jamelia (kerching!) with Soulshock and Peter Biker, who also produced it.
2. It sounds like a Jamelia record but it has the verses of a Robyn track. It also has the chorus of 'Since U Been Gone', except with different words. And a different tune. Basically it has guitars in it. But you don't think the guitars are going to be there until they appear — a good example of the element of surprise. It is a bit like being HAPPY SLAPPED BY POP.
3. Jamelia certainly shows Paris Hilton and 'Christrina' Aguilera a thing or two about being a singer. Thing One being that yes it is possible to have a bit of 'something' about your voice to make you dis­tin­guish­able from a session singer. Thing Two being that if people already know you can sing you don't have to hit them round the head with your 'amazing' 'vocals' to remind them of this fact.
4. 'Something About You' is better than every other Jamelia single, apart from the first few weeks of hearing 'Superstar'.
5. It has a proper ending, not a fade.
6. It is one of the best UK pop singles of the year so far.
7. It is fair to say that 'radio' will probably quite like it.
8. On paper the chorus lyric "there's something about you and you don't even know it, I'm telling you now that you got me good" doesn't look like much, but it is quite good in the song. That is why this is a POP RECORD and not a POEM.
9. Jamelia is singing this pop record to somebody she likes an awful lot. She likes them because of "your style your voice your points of view, the good the bad the ugly too". It rhymes!
10. It is very nice to have Jamelia back. Welcome back Jamelia and well done on your new pop record.