There are more One Direction dolls on the way
---
Story filed by Brad O'Mance on May 8, 2012
---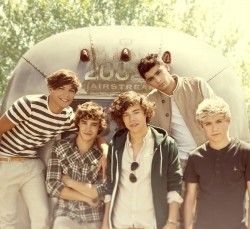 One Direction have 'inked' a deal with toy manufacturer Hasbro to make "fashion dolls, mini-figures and more" according to Music Week.
If you're in the UK and you're thinking 'but they already have a range of fashion dolls and mini-figures', then you're quite right and unfortunately this new range will be sold everywhere apart from here. Apols.
Hasbro's chief marketing officer ('officer') John Frascotti had this to say about it all: "In the short time since the group's debut, One Direction has captured the hearts of many young fans across the world."
YES WE KNOW THAT JOHN.
"We are excited about the opportunity to provide One Direction's very enthusiastic international fan base with a diverse product line that captures the essence of the band members," he said.
Fingers crossed the Niall doll comes with a tiny bit of that Vegemite on toast he vommed up live on Australian TV.