One Direction's new single has a title and their album sounds like it will be amazing
---
Story filed by Brad O'Mance on August 23, 2012
---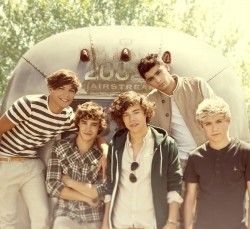 One Direction's new single is called 'Live While We're Young'.
How do we know this? Because they've said as much in the 25-second long video clip we've plonked at the bottom of this 'news' story.
As Harry says, the single will be available to pre-order tonight at midnight while the actual 'street date' is September 30.
According to a press release, the single's been written with Savan Kotecha, Rami Yacoub & Carl Falk (i.e. the people that helped make 'What Makes You Beautiful' so amazing), and the album also features collaborations with Dr Luke (amazing), Shellback (amazing) and Toby Gad (amazing).
Ed Sheeran's on there too, but you can't have everything.
The album's out at some point in November.