Kelly Clarkson has admitted she didn't know what she was doing when she first started
---
Story filed by Brad O'Mance on May 8, 2012
---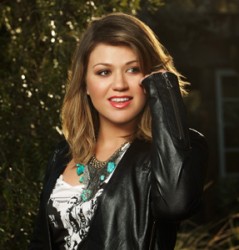 Kelly Clarkson's been talking about Duets, this new TV talent show thing she probably agreed to do before 'Stronger' got to Number 1 in America.
While claiming during a behind the scenes 'investigation' by Good Morning America that the four "superstars" involved (Clarkso, John Legend, Robin Thicke and Jennifer Nettles) were all "fun competitive", Clarkson was keen to promote the positive aspects of a show that involves the real singers performing duets with a handful of what host Quddus refers to as "amateurs".
"Nobody guided me," the 'Don't Waste Your Time' hitmaker said of those early years after she won American Idol. "I don't know about ya'll, but I was making mistakes left and right, and I didn't know what I was doing. I think it's really cool to give back in that sense."
Giving just a taste of what to expect, Clarkso and John Legend then performed a heart-rending version of 'Row Row Row Your Boat'.
Duets starts in America on May 24.