Bruno Mars' new single will be 'premiered' on Monday
---
Story filed by Brad O'Mance on September 27, 2012
---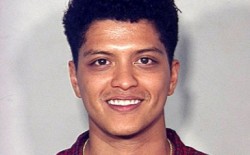 Bruno Mars has officially confirmed that his new single is indeed called 'Locked Out Of Heaven'.
He's also plonked a 'teaser' video thing on YouTube which shows some studio footage – including a brief appearance from Mark Ronson – and announced a Google+ hangout thing (!!) for October 1.
The single will also be premiered on that date too, so that's something to look forward to in these testing times.
Here it is: