Azealia Banks isn't managed by Troy Carter any more
---
Story filed by Brad O'Mance on June 8, 2012
---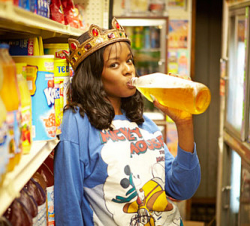 Famously easy to work with 'P-U-S-S-Y' chanteuse Azealia Banks has 'parted ways' with her (and Lady Gaga's) manager Troy Carter after just two months.
Talking to Billboard Biz about it all, Carter said: "I can confirm that I ended the business relationship with Azealia last month on very amicable terms. She's incredibly talented and I wish her nothing short of an amazing career."
'Very amicable'.
In other 'Azealia Banks potentially upsetting other music industry bigwigs' news, she's also accused Diplo of going around telling people he discovered her.
She told MTV Hive: "I swear, Diplo's running around telling people, 'I discovered her!' Every magazine's like, 'Diplo produced her first track 'Seventeen'.' No he didn't, I produced it. I just sent it to him. Everyone just thinks that Diplo found me, but he didn't."
And finally, in a separate interview with MTV, she's 'come clean' and confessed that she got a little ahead of herself when she tweeted "just got a Kanye West beat" a few months ago. Basically, she just didn't read her emails properly.
"I was actually very gassed and tweeted it," she explained. "He sent me some links for stuff he thought I should sample and the email title just said 'beats' and I was like: 'I got beats from Kanye West!' Then [the email said], 'Hey, I think you should sample these,' and I was like, 'Come on, fucking Kanye, give me a goddamn beat! Let me get a beat!'"