RSS
THE LATEST.
Highs and lows from the pop frontline
SOME NEWS
Posted on May 08 2013 at about 18:04
Madonna's getting an award acknowledging how much money her last tour made
Madonna will be given the Top Touring Artist award at the Billboard Music Awards later this month, it's been announced. [...]
On Elyar Fox, popjeopardy and out-of-control lyric videos
Posted by Popjustice on May 08 2013 at about 17:49
Any new breakthrough (or about-to-breakthrough) artist is interesting to a certain degree, but despite his obvious talent – and a huge fanbase that he pretty much built himself - Elyar Fox is the sort of waiting-in-the-wings pop sensation whose imminent hugeness is seen to be so guaranteed that when people talk about him they do so with a certain sense of sadness. Maybe, from some quarters, it's resentment from managers and artists whose own experiences with artist launches have been frustrating and unsuccessful.
But it's also the case, as a lot of us discovered with Rita Ora (even if we didn't realise it while it was happening), that there are times when you really miss the part of a popstar's rise to fame when it feels like anything could (or couldn't) happen. This sort of talk might be completely lost on anyone who works at a label. If you work at a label, or have any involvement with trying to break an artist, you'll take any glimmer of success and cling onto it for dear life.
But for pop fans, with Rita Ora and a few other artists in recent years – Conor Maynard's another – there was no real sense of jeopardy. Gameshows don't work without jeopardy, nor does sport, and nor does pop. With Rita the label, the feature on a dance track, the guest rapper, the producers and songwriters, the PR campaign, the management, the whole package was so smoothly constructed that there was almost no narrative when Rita did, as planned, become very famous. When 'How We Do (Party)' hit Number One, it should have seemed impressive. Instead, it just felt like someone could tick another box.
Some of our favourite music comes to life in a manner that is more scientific than it is artistic, but when the launch of a new act is reduced to an equation it means we miss out on the best bit of falling in love with a new popstar: the excitement.
Anyway we are not here to talk about Rita Ora, and we're not really here to talk about Elyar Fox's equation for pop supremacy (in this case the brute force pop launch combines Polydor with Global Talent's guaranteed airplay and Fox's own impressive following on YouTube, Twitter etc), and we also don't want it to seem like we're down on Elyar Fox, because there's lots of potential here for a bright and likeable new star in the pop cosmos. At the very least, his logo is good.
Anyway, what we're really here to discuss is the lyric video Elyar has made for his rather good new song 'Colourblind' (which you can get as a download on his site), and the fact that the lyric video is completely ridiculous. It's ridiculous because it's not a lyric video at all, it's just a video which happens to have some words in it.
We've loved lyric videos since they first started popping up a few years ago, and this one takes the 'genre' to absurd extremes. In a way we feel slightly upset that the purity of songwords flying around on a screen is lost with lyric videos like this. On the other hand, we always like seeing lyrics brought to life in different ways. This 'lyric video' chat isn't as interesting as the popjeopardy thing, is it? Sorry about that.
Elyar Fox: further reading
» Facebook
» Twitter
» YouTube
» Official site (for free download)
Let's get down to serious business here. Who, out of a list of gents, is the best?
Posted by Popjustice on May 08 2013 at about 15:19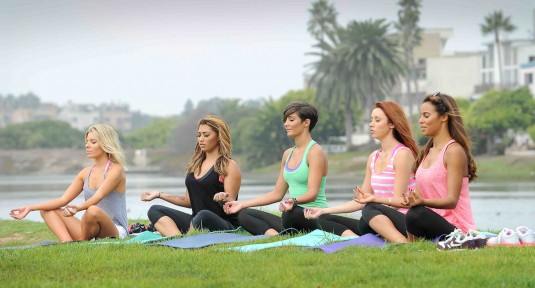 The strange and amazing new Saturdays single 'Gentleman' has just leaked and one of the best bits – apart from a line about buying cows and another one about tasting a lady's rainbow – is a kind of rap bit with 'The Sats' listing a load of men they want to do sex with. (Or maybe just have a kiss and cuddle with, because of course full-on rainbow tasting doesn't need to happen on a first date.)
Anyway we thought it would be sensible to get an idea of which of the listed men is best. Please vote carefully and responsibly.
Loading ...
CHEERS.
SOME NEWS
Posted on May 08 2013 at about 15:06
The Saturdays' new single 'Gentleman' is now online
After what feels like a century of teasing, The Saturdays' new single 'Gentleman' has found its way onto the internet [...]
More The Saturdays
comments
SOME NEWS
Posted on May 08 2013 at about 14:52
Jennifer Lopez's album won't be out until November
Jennifer 'J.Lo' Lopez said some things about her album and her future plans while 'premiering' 'Live It Up' on US [...]
More jennifer lopez
comments
J.Lo and Pitbull's 'Live It Up': first listen
Posted by Popjustice on May 08 2013 at about 14:31
Now when we say 'first listen' we don't of course mean that we are the first people to listen to it because the song was just played on US radio, but here is a diary of what we heard when we listened to it for the first time.
You can listen along, if you like – the lyric video has just appeared.
0:02: It has taken precisely two seconds for Pitbull to talk about himself – with a cry of 'Mr Worldwide!'. This is followed by a namecheck for RedOne, then a mention of 'The Beautiful Jennifer Lopez'. Amazing.
0:10: "We don't believe in de-feat," Pitbull explains. "That's why we're back for a re-peat." We like the fact that the grand(ish) tradition of The J.Lo & Pitbull Summer Song is being referenced in this song's lyrics.
0:34: Pitbull's still banging on. "I know it's hard to understand how a boy grew to a man, man turns to a brand, but guess what here I am." To be honest we think Pitbull is underestimating listeners' ability to comprehend the concept of 'growing up', and we suspect that even the most casual Pitbullologist understands that the rapper's main way of establishing himself as a brand was to keep banging on about being a brand until everyone just went "OH CHRIST PITBULL ALRIGHT WE GET IT YOU'RE A BRAND". So that's all a bit silly, but we do like the way Pitbull introduces J.Lo's (eventual) appearance: "Jenny from the block – let's rock". This is a great line. (This is not really a rock song in any established sense of 'rock', and some may also query the 'song' factor too, but let's not dwell on these points.)
0:40: J.Lo starts singing about "rocking body to body" and "let's go insane", then it sort of breaks down for some clattering drums and chanting about being in the spotlight. There are whistles. WHISTLES.
1:11: Time for the chorus. "Oh oh we can do anything we want – live it up, so live it up, live it up". It's all a bit lyrics-to-fill-space but it's worth admiring J.Lo's insistence that "we won't stop until we're done". In other words, they'll do it until they don't. They'll go out until they're not out any more. In a world where will.i.am insists that we must either go hard or go home, props to J.Lo for showing that you can do both. The chorus ends with a brilliant "GO GO GO GO" bit.
1:30:  The chorus suddenly ends and Pitbull says "make love, don't fight – let's fuck tonight". (Charming!) This is followed by either the sound of a champagne cork popping, or the sound of Pitbull's penis ejaculating. If the latter, it's worth wondering if this is an involuntary spasm that Pitbull endures every time he is in the vicinity of a hit record. Imagine that.
1:36: Massive grinding RedOne-esque electro bit.
1:50: Boring second verse, followed by another bridge (yes the whistles are still there), chorus, another Pitbull ejaculation, and another RedOne rave attack.
3:08: A rap from Pitbull in which it is stated that J.Lo has "done it" and that "she's the reason women run it". There's a really brilliant "clap your hands to the beat" breakdown, then there's a bit more chorus, some more RedOne rave attack, and the song finishes with one glorious final ejaculation from Pitbull. Say what you like about 'Mr Worldwide', three times in as many minutes is pretty impressive.
VERDICT: No sample, which is a shame, but the whistling and ejaculations are good. 7/10, with room to rise to an 8/10 as the summer progresses.
SOME NEWS
Posted on May 08 2013 at about 10:05
Cher Lloyd wanted to work with Demi Lovato because she's an actual fan of her work
Cher Lloyd's been saying some boring things about why she decided to record a song with Demi Lovato. "First of [...]
More cher lloyd
More Demi Lovato
More ne-yo
comments
SOME NEWS
Posted on May 08 2013 at about 10:04
Beyoncé's recorded a new song for this animated film she's in
Beyoncé's recorded a new song that has nothing to do with an advertising campaign. Instead, 'Rise Up' will be released [...]