Nicole Scherzinger on The X Factor: not awful
Posted by Popjustice on Nov 29 2010, 09:00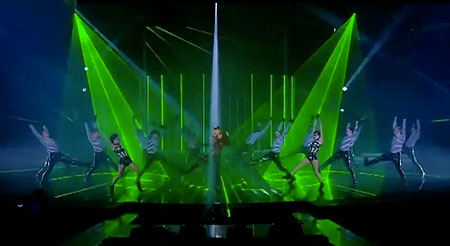 The YouTube video at the end of this post may no longer be active by the time you read this, but that matters little. What matters lots is that Nicole Scherzinger's performance of 'Poison' on last night's The X Factor will live on – Upon The Twitter, then through folklore, then in the laughter of children born to future generations – for millennia to come.
(It was basically quite good.)
The epoch-redefining performance featured LASERS and DANCERS and DANCE BREAKS and NICOLE BEING HELD ALOFT and A COSTUME CHANGE and VARIOUS OTHER MOMENTS OF GREATNESS.
As we pondered out loud yesterday evening, imagine if Top Of The Pops came back with the ability to pull off this sort of performance. It would also have to be able to accommodate a more scaled down performance such as Pixie Lott's usual trick of wheeling out three bored looking session musicians a few dancers seemingly dragged forward in time from 1999, but it would definitely be rather watchable. All it would need, in order to be able to work in this post-X Factor climate, is some sort of extra 'narrative' in which singers compete against each other week after week in order to… Hang on. Hang on just a minute. THAT'S THE TOP FORTY!
Anyway here is (or here isn't depending on whether it has been removed from YouTube) the performance. HOLD ON TO YOUR HAT.


MORE
top of the pops
MORE
bored