An explanation of yesterday evening's events involving Kelis and Jimmy Kimmel
Posted by Popjustice on Apr 07 2010, 09:45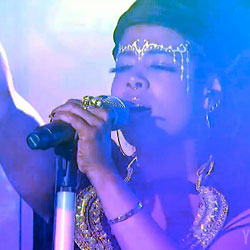 There is a programme ('show') on American television hosted by a man called Jimmy Kimmel. It is called The Jimmy Kimmel Show. That is fact and cannot be disputed.
There is a lady in America called Kelis. She has recorded a song called 'Acapella'. It is pop music of a very high standard, as has been widely documented here and elsewhere.
Last night 'Kelis' performed the above-mentioned 'Acapella' song (not acapella) on Jimmy Kimmel's 'The Jimmy Kimmel Show' show.
SHE HAD A THING ON HER HEAD.
THERE WERE FLASHING LIGHTS.
SHE HAD WILL.I.AM ON THE 'DECKS': PRETENDING.TO.DJ.HE.WAS.
THIS IS A VIDEO OF IT HAPPENING.


It will be interesting to see how this whole 'new Kelis album' business pans out considering Kelis has historically sold somewhere in the region of Fuck All Records. Hopefully she will be a quite large global songstress by the time the whole album 'campaign' has ground to a halt 15 months from now.